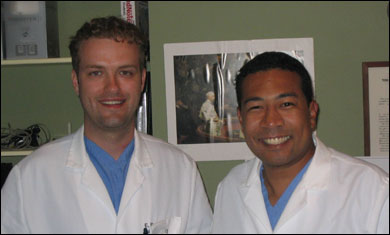 Doctors Daniel McChesney (left) and Ernest Braxton are business partners in NeuroLife, a startup that hopes to develop and commercialize a non-invasive medical device to measure brain pressure. McChesney earned his MBA from the Tepper School last May and Braxton is pursuing his MBA at the Tepper School this fall.
Tepper School graduate Daniel McChesney thinks he has a pretty good idea for a new hand-held, noninvasive medical device that measures brain pressure faster, safer and easier for more than 500,000 patients per year who suffer from traumatic brain injuries. The proposed tool, which will measure brain pressure non-invasively through the patient's eye, would also benefit more than 8.5 million American patients at risk of brain damage as a result of elevated brain pressure.
McChesney should know if it's a good idea or not. In addition to earning his MBA this past May, the fledgling entrepreneur is a 2002 graduate of the University of Pittsburgh Medical School. He was formerly a researcher at the National Institutes of Health and has also worked at multiple medical diagnostic start-up companies.
Business experts think McChesney's idea is a good one, too. In fact, NeuroLife, the startup company McChesney founded to develop and commercialize the device, is one of five finalists in FORTUNE Small Business magazine's Student Showdown, a national business plan competition for b-school students. McChesney and NeuroLife won the Idea Foundry Business Plan Competition among Tepper School students earlier this year.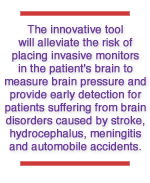 McChesney's business partner is Ernest Braxton Jr., a neurosurgical resident at Allegheny General Hospital in Pittsburgh. Braxton, who will be attending the Tepper School this fall to pursue an MBA, invented the technology for the medical device. He is a graduate of the U.S. Air Force Academy and earned his medical degree from the University of Pennsylvania School of Medicine. Prior to moving to Pittsburgh, Braxton was an emergency room physician at Osan Air Base in South Korea.
In the semifinals of the FORTUNE competition, McChesney delivered a 10-minute synopsis of his business plan to a panel of judges, including venture capitalists and entrepreneurs, via teleconference. Finalists were selected based on the credibility, clarity and presence of the presenter. The final round of competition will be held on Sept. 13, when each finalist will field questions about their business plan from a competing team.
McChesney says the innovative tool will alleviate the risk of placing invasive monitors in the patient's brain to measure brain pressure and provide early detection for patients suffering from brain disorders caused by stroke, hydrocephalus, meningitis and automobile accidents.
"We're currently developing a prototype. The goal is to make it an automated, hand-held device that could fit into a compact bag," says McChesney who earned his bachelor's degree in biochemistry at Rutgers University in 1997.
McChesney is pursing funding from the National Institutes of Health, the Pittsburgh Life Sciences Greenhouse, private investors and the U.S. Army, which sees the device as a valuable tool for soldiers who sustain head injuries in the battlefield.
More than 80 teams from 66 business schools entered the FORTUNE competition. The winning entry will receive a $35,000 cash prize from sponsor SAP, the world's leading provider of business management software. The runner-up will receive $10,000 and $5,000 will go to the third-place entry.


Bruce Gerson
August 23, 2005