Music Student Goes Behind the Scenes at NPR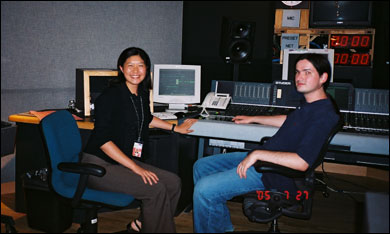 As a summer intern at NPR, piano performance graduate student Patricia Li (left) experienced firsthand what makes a radio station tick.
Patricia Li, a graduate student studying piano performance at Carnegie Mellon's School of Music, usually finds herself in front of a crowd when she slips into her professional role. But this summer, she discovered what it's like to be behind the scenes as an intern for the award-winning National Public Radio (NPR). The Fulbright Scholar was one of 45 students selected from a pool of more than 1,000 applicants to spend her summer "vacation" learning the ins and outs of radio programming and operations at NPR.
As an intern, Li experienced firsthand what makes a radio station tick. She worked in the station's Music Unit, where she produced a segment for "Intern Edition," one of NPR's programs run entirely by summer interns. Her segment, "Dark Side of the Music," was met with high praise and may be selected to air nationwide on the program "All Things Considered."
Li also produced two radio pieces on musical events in the Washington, D.C., area for Intern Edition's "Summer in the City" Web feature. One focused on a concert organized by the Mexican Cultural Center, and another on an event remembering the 60th anniversary of the end of the second Sino-Japanese War during World War II. In addition to producing, Li wrote on-air scripts, researched, developed materials and processed new concert material.
Li's summer at NPR contributed to a portfolio that transcends cultural and professional borders. Born in Shanghai, China, and raised in Buenos Aires, Argentina, she began taking piano lessons at age six. She went on to attend the San Martin Conservatory in Buenos Aires, where she majored in piano performance. She has performed at Carnegie Music Hall of Pittsburgh, the Pittsburgh Chamber Music Concert Society, Kansas University and the Colon Theater of Buenos Aires. Her instructors include maestro Anton Soler Biljensky as well as Carnegie Mellon Professor of Music Enrique Graf.
Li's experiences at Carnegie Mellon were vital to her success at NPR. She credits courses in sound engineering, recording and editing, and advice from professors and career advisors as motivators for applying for the internship. Li hopes to use what she learned at NPR—as well as through her coursework at Carnegie Mellon—to pursue a career in radio production.


Vijay Jesrani
August 22, 2005