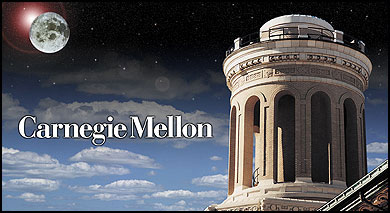 Carnegie Mellon University ranked 22nd and its undergraduate programs in engineering and business ranked among the 10 best in the country in U.S. News & World Report magazine's annual survey of "America's Best Colleges." The 2006 edition becomes available on newsstands Aug. 22.
"Carnegie Mellon's showing in national rankings continues to be very strong. Surveys are just one measure of the overall excellence of our educational programs and confirm something we know—that Carnegie Mellon and its many graduate and undergraduate programs rank among the best in the nation, if not the world. And, we continue to be pleased that our outstanding efforts to provide undergraduate student research and creative student projects are being recognized," said Carnegie Mellon President Jared L. Cohon.
Carnegie Mellon's undergraduate business and engineering programs were ranked fifth and eighth, respectively. U.S. News & World Report annually ranks engineering and business programs, as well as specialty areas within those disciplines.
In business specialty offerings, Carnegie Mellon ranked second in management information systems, quantitative analysis, and production and operations management and fifth in supply chain management. The Tepper School also ranked ninth in finance, 19th in entrepreneurship, 20th in marketing and 24th in management. In engineering specialties, Carnegie Mellon ranked third best in computer engineering, 10th in electrical engineering, 11th in materials science engineering, 13th in civil engineering, 13th in environmental engineering, 13th in mechanical engineering and 14th in chemical engineering.
"Carnegie Mellon's College of Engineering has consistently ranked in the top 10, and this latest ranking confirms the quality of our undergraduate programs and our goal of training tomorrow's leaders to be adept at developing engineering solutions to many of society's problems and challenges," said Pradeep Khosla, dean of Carnegie Mellon's College of Engineering.
"We are very proud of the undergraduate business program's success in preparing students for a career in business," said Kenneth B. Dunn, dean of the Tepper School of Business at Carnegie Mellon. "The recognition of our strengths in the analytical and technological areas of business are especially rewarding since they are the focus of all of our programs."
Carnegie Mellon continues to make a strong showing in another magazine "best" category—that of "undergraduate research/creative projects." The magazine lists, but does not rank, universities in this category. Carnegie Mellon has been listed among the "Programs to Look For" in undergraduate research and creative projects since the listing started four years ago.
Carnegie Mellon ranked 35th in the nation in the category, "Great Schools, Great Prices." It also was included in the listings for Economic Diversity and International Students.
The overall rankings were determined by several measures including peer assessment, graduation and retention rates, faculty resources, student selectivity, financial resources (spending per student), graduation rate performance (the difference between actual and predicted graduation rates) and alumni giving rates.
Harvard and Princeton were tied for the top spot in the overall national university category.
For a complete look at the rankings, visit http://www.usnews.com.
Forbes Ranks Tepper School 16th Among Full-Time Business Schools, 8th Among Part-Time Programs
In Forbes magazine's biennial rankings of national full-time business schools Carnegie Mellon's David A. Tepper School of Business was rated 16th, up three spots from last year. The school was also rated 8th in the country among national part-time MBA programs.
The Forbes rankings focus on the return on investment for graduates—alumni salaries five years after graduation minus tuition and the forgone salary during their time in school.
The Tuck School of Business at Dartmouth was ranked first among full-time programs and NYU's Stern School of Business topped the part-time ratings.
For a complete look at the Forbes rankings, visit http://www.forbes.com.


Teresa Thomas
August 19, 2005