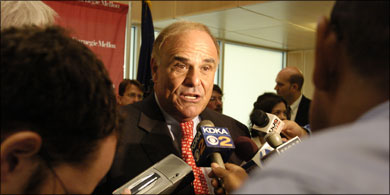 Governor Edward Rendell answers questions from the media following a press conference in which Apple Computer was announced as the newest tenant in Carnegie Mellon's Collaborative Innovation Center. Rendell says CoLab is already paying dividends for the region's economy.
Pennsylvania Governor Edward G. Rendell joined Carnegie Mellon University and Allegheny County leaders today (July 25) to announce Apple Computer's tenancy in the university's Collaborative Innovation Center and to celebrate the governor's Keystone Innovation Zone (KIZ) program, a state-wide initiative that aims to spin off university research into new businesses and jobs in the Commonwealth.
Apple joins Intel Research Pittsburgh, Carnegie Mellon CyLab, the nation's largest academic center for cybersecurity-related research and education, and the Software Engineering Institute's Network Systems Survivability (NSS) program, which includes the world-renowned CERT Coordination Center (CERT/CC), as tenants in the new 127,654-square-foot building. The Korean Information Security Agency (KISA), a research division of the Korean information technology ministry and a CyLab partner, is also a tenant.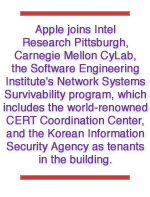 Rendell, who was introduced by Carnegie Mellon's social robot GRACE, said his administration has always realized that universities across the state are more than just a place where young people go to get an education. "They're economic engines," he said. Rendell noted that the new CoLab is already paying dividends as at least 200 new jobs will be created by building tenants.
"In addition to education and research, Carnegie Mellon is committed to economic development in the region," said Provost and Senior Vice President Mark Kamlet. "CoLab is the only facility in the world where Apple and Intel will be working side-by-side."
Apple and Intel will be located on the fourth floor of the building.
Situated in Junction Hollow, the Collaborative Innovation Center, built using "green" design principles, represents the hub of Carnegie Mellon's engagement in the KIZ. The facility promotes regional economic development as Carnegie Mellon researchers work together with industry to develop new technologies, new business ventures and new jobs.
The Collaborative Innovation Center was funded with state capital and Department of Community Development funds, Carnegie Mellon financing, and support from the City of Pittsburgh and the Regional Industrial Development Corporation (RIDC).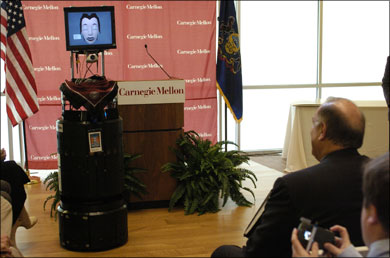 Governor Rendell was introduced by Carnegie Mellon's social Robot GRACE.
"As Carnegie Mellon's first effort to create space on campus for joint research with industry, the building is a celebration of the goals of the KIZ program. The building creates a nexus for industry, federal and university research—supporting start-ups, enhancing competitiveness for federal research funding and creating a landing zone for companies," Kamlet said.
Kamlet noted that the building is a hotbed for next-generation wireless and mobile computing, robotics and trustworthy computing applications.
Intel Research Pittsburgh is one of four labs created by Intel Corp. in order to pursue open collaborative research projects to accelerate the development of new computing and communications technologies.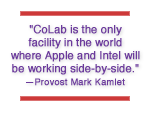 Carnegie Mellon CyLab is a university-wide, multidisciplinary initiative that builds on more than two decades of Carnegie Mellon's leadership in information technology and involves more than 200 faculty and staff. CyLab contains two National Science Foundation centers and hosts researchers from its 46 corporate members. About 140 members of CyLab work in the Collaborative Innovation Center.
The Korean Information Security Agency (KISA) pledged $6 million over the next three years to establish CyLab Korea at Carnegie Mellon and has assigned six senior researchers from KISA to full-time positions with CyLab in the Collaborative Innovation Center.
More than 130 members of the Network Systems Survivability program, including CyLab partner CERT/CC, will be housed in the Collaborative Innovation Center. NSS is part of the Software Engineering Institute, which recently received one of the largest federal contract renewals ($411 million) in Pennsylvania history.
In addition to celebrating CoLab, Rendell announced a $301,000 grant to RedPath Integrated Pathology Inc., for the company's expansion project in Pittsburgh, where 67 new jobs will be created; a $175,000 grant to the African American Cultural Center for the creation of a new facility at the corner of William Penn Way and Liberty Avenue downtown; and a $175,000 planning grant to the Horticultural Society of Western Pa. to develop a Botanic Garden in Settlers Cabin Park.
For more on CoLab, visit http://www.cmu.edu/co-lab/


Teresa Thomas
July 25, 2005