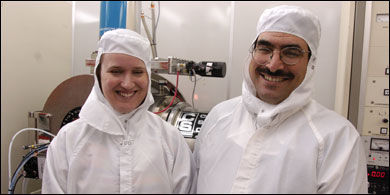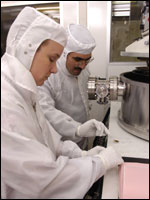 Seth Borenstein and Katherine Bouma toured Carnegie Mellon's Nanofabrication Center, also known as the "clean room," where they conducted a series of tests and experiments.

National journalists Seth Borenstein and Katherine Bouma recently spent 10 days on the Carnegie Mellon campus, but they weren't working for their respective news outlets. Instead they were getting an up-close and personal look at some of the university's environmental research as the first media fellows of The Steinbrenner Institute for Environmental Education and Research.

Borenstein, a national correspondent for the Knight Ridder Washington bureau, and Bouma, an environmental reporter for The Birmingham News, interviewed more than 40 Carnegie Mellon professors and researchers June 22-July1.

"I was pleasantly amazed at all the environmental research going on here at Carnegie Mellon," said Bouma, who has been covering the environmental beat for 15 years. She is the past winner of the Edward J. Meeman Award for environmental reporting and the Philip D. Reed award for environmental writing.

The reporters met informally with researchers in labs and in the field. Their interviews spanned everything from green design and green buildings to air quality, water quality, green chemistry, risk management and robots.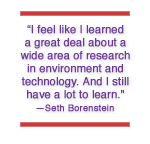 "I feel like I learned a great deal about a wide area of research in environment and technology." said Borenstein. "And I still have a lot to learn."
Borenstein covers the environment, science, public health, energy, homeland security, science and aviation safety on a global and national basis for the nation's second largest newspaper chain. He is the winner of the 2004 Society of Environmental Journalists' Outstanding Beat Reporting Award. Borenstein broke stories on the Columbia shuttle accident and investigation and was a key reporter on a team named as a Pulitzer Prize finalist.
Chris Hendrickson, head of Carnegie Mellon's Department of Civil and Environmental Engineering and faculty director of the Steinbrenner Institute for Environmental Education and Research, said the fellowship is an opportunity for Carnegie Mellon to showcase all the environmental activities on campus. "But in a larger sense, it is an opportunity to have a dialogue with the media that can improve public discussion and understanding of critical environmental issues," Hendrickson said.
"The thing that impressed me most was the eagerness and enthusiasm of the faculty for this program," said Deb Lange, executive director of the Steinbrenner Institute. "We really want journalists to go away with the knowledge that they can use Carnegie Mellon as a resource for their stories."
Working as a catalyst, the Steinbrenner Institute for Environmental Education and Research promotes global scale research and encourages timely educational programs.


Chriss Swaney
July 12, 2005