Let the Games Begin!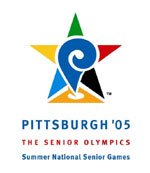 More than 1,200 Senior Olympians will continue their quest for track and field gold at Carnegie Mellon this week, as the university joins other Pittsburgh venues as a host for the National Senior Games.
Through June 17, Gesling Stadium will be the location for hotly contested events that are part of the games' track and field competition. Practices began last week and preliminary heats and final races will continue through Friday, June 17.
First held in St. Louis, Mo., in 1987, the National Senior Games is a biennial event dedicated to motivating active adults to lead a healthy lifestyle. Today, the games are the largest multi-sport event in the world for seniors.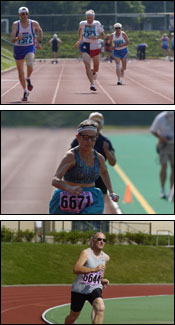 Track and field competition will continue this week in Gesling Stadium for athletes ages 50-64. (Photos by Ken Andreyo)

More than 12,000 athletes—along with 25,000 guests, family and supporters—have traveled to Pittsburgh this summer to compete in 18 Olympic-style sports ranging from swimming to road racing at venues across the region. In all, more than 817 events will be contested over the course of 16 days.

The university is providing room, board and parking for some out-of-town participants.

Track and field competition began June 8, with the 100 meter and 400 meter preliminary races for men and women ages 65-100+. The remainder of the week featured competitions in discus, long jump, pole vault and high jump as well as the 200-meter, 800-meter and 1,500-meter race finals. Athletes 50-64 will compete this week in the same categories. The events are covered by sports media from around the U.S., including Sports Illustrated and the Associated Press. (A complete schedule of events is listed below.)

Each athlete at the Senior Games earned their spot by winning a gold or silver medal at their 2004 State Games. Athletes come from all 50 states and at least half have college degrees. Men and women compete equally in the games, but game organizers say participation can be even more meaningful for female athletes, for whom competitive sports weren't as accessible in their youth as they were for men.

The average age of this year's competitors is 65, but Sam Pate holds the record for the oldest athlete to participate in the games. The 103-year-old Texan will go for the gold in bowling this year.

All athletic competitions at the games are free and open to the public. For a complete schedule of events, visit http://www.2005seniorgames.org/home.jsp

Track and Field Events at Gesling Stadium

All events are free and open to the public. For more information, visit http://www.2005seniorgames.org/competition.jsp.
June 13

100-meter prelims, 400-meter prelims (ages 50-64)

June 14

long jump, shot put, 100-meter finals, 800-meter prelims (ages 50-64)

June 15

discus, high jump, 200-meter prelims, 400-meter finals (ages 50-64)

June 16

javelin, pole vault, 200-meter finals, 800-meter finals, 1500-meter finals (ages 50-64)

June 17

rain date
Susie Cribbs
June 8, 2005