Carnegie Mellon Research Fuels Pennsylvania's First Commercial Biodiesel Plant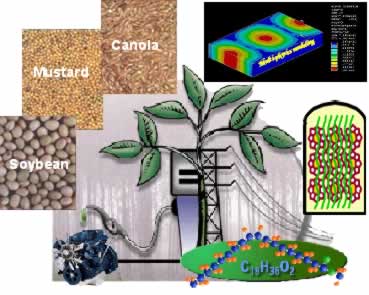 Unlike conventional biodiesel production methods, CTI can use a combination of vegetable oils such as soybean, corn, and canola, as well as used cooking oil and animal fats, in a high-yield process.

Thanks to a new "green" process developed at Carnegie Mellon University's Center for Advanced Fuel Technology, a Pittsburgh-area plant will soon become Pennsylvania's first commercial producer of biodiesel fuel, a clean-burning alternative to petroleum.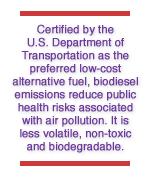 Richard Jackson, president of Capital Technologies International (CTI), said the new process, which causes no harm to the environment, produces biodiesel more quickly and is less expensive than standard methods. The technology has been licensed to CTI and patents are pending. David Purta and Marc Portnoff of Carnegie Mellon's Center for Advanced Fuel Technology (CAFT) were principal developers of the new process.
Made from domestic agricultural products, biodiesel fuel can be burned or blended with petroleum in diesel engines without vehicle modifications. Certified by the U.S. Department of Transportation as the preferred low-cost alternative fuel, biodiesel emissions reduce public health risks associated with air pollution. Biodiesel is less volatile, non-toxic and biodegradable.
The conventional method to produce biodiesel often requires complicated systems, high production costs, and the use of potentially hazardous materials called liquid caustics. "We have produced a safer, more streamlined method for making biodiesel," Jackson said. "It will produce a cleaner product at a lower cost with no emissions or odors."
CTI is forming a joint venture with Valley Proteins at their site on Neville Island near Coraopolis, Pa. Jackson expects a 10 million gallon biodiesel plant to be in operation by the end of 2005. Unlike standard processes, CTI can use a combination of vegetable oils such as soybean, corn, and canola, as well as used cooking oil and animal fats, in a high-yield process.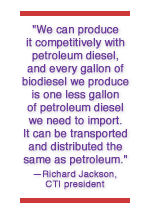 "We can produce it competitively with petroleum diesel, and every gallon of biodiesel we produce is one less gallon of petroleum diesel we need to import," Jackson says. "It can be transported and distributed the same as petroleum." Jackson notes that biodiesel is "widely used by the U.S. Air Force, Marine Corps, National Parks Service and state and local transportation authorities."
"CTI has established joint ventures to use this process in Turkey, Brazil and Malaysia," Jackson said, "and active negotiations are under way in Ireland, Columbia, Canada, Israel and numerous other countries."
CTI, located at the Pittsburgh Technology Center, has a long-term relationship with Carnegie Mellon. The company sells pre-assembled factories to produce renewable fuels and forms joint ventures to produce biodiesel. Other CTI divisions are involved in cutting-edge research of petroleum hydro-processes, and environmental cleanup of oil spills and hydrocarbon contamination.
For more on CTI, visit www.capital-technologies.com.


Bruce Gerson
May 27, 2005