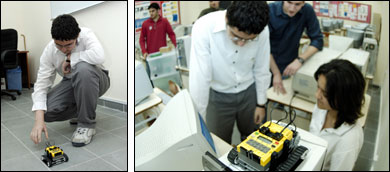 Mason Al Nourie (left) and Lobna Genena are members of the robotics club at the International School of Choueifat in Doha.
A robot edges forward as a team of young scientists wait with bated breath to monitor and formulate its next move. This isn't a scene from the latest Hollywood movie but a historical step taken by students in Qatar who, thanks to Carnegie Mellon University in Qatar, are now able to access leading-edge robotics technology to assemble and program their very own robots.
Carnegie Mellon in Qatar has launched a series of after school robotics clubs in Doha, offering courses based on the KISS (Keep it Simple Stupid) Institute for Practical Robotics (KIPR) renowned Botball program. Pioneered in the United States where it is extremely popular, the KIPR program is a basic robotics development and assembly course geared for high school students.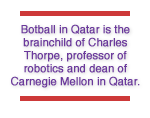 Qatar's Botball program, which is the first of its kind to be run outside the United States, follows the KIPR standards which mandate that students are taught to program their own robots in order to ultimately compete in an inter-school Botball challenge. The first Doha Robo Challenge will be held from 1 to 4 p.m. on May 21 at the Qatar Academy Gym.
Botball in Qatar is the brainchild of Charles Thorpe, professor of robotics and dean of Carnegie Mellon in Qatar. Thorpe introduced the Botball robotics clubs in October 2004 with the help of his son Leland. Leland is a Botball enthusiast and former participant in KIPR challenges in the United States. Both father and son have helped to set up after-school clubs in four of Doha's secondary schools.
Currently, the American School of Doha, the Omar Bin Al-Khattab Educational Complex for boys (also known as the Scientific School), Qatar Academy and the International School of Choueifat have clubs which are expected to compete against each other in the Doha Robo Challenge.
Club members meet on school nights for two hours each week, and from the first session have been programming Lego robots using a desktop computer. Under Leland Thorpe's leadership, students have designed line-following robots; robots that run freely over tables without falling off the edge and even robots that can sumo wrestle each other.
"This has been a huge step in getting young students interested in robotics. The club has created quite a buzz among high school and middle school students and has been met with an overwhelming response from the four schools who are working with us to kick-start this exciting project," Thorpe said.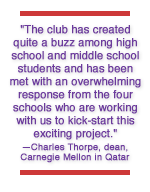 Cathryne Stein, KIPR executive director and co-founder, is impressed by the Botball initiative in Qatar. "We're delighted to work with Carnegie Mellon in Qatar to create the first international Botball Challenge in Qatar. We are particularly proud of Leland Thorpe's leadership in this project as he is the first former Botball student to initiate and implement a new Botball region himself," Stein said. "This reflects highly on his personal experience in the program as well as his vision and integrity in giving something valuable back to his local community."
The program encourages students to take an active role in finding new solutions to new problems. This hands-on approach promotes team-building skills and strengthens mathematical, scientific and creative thinking.
"These are some incredibly motivated kids and I am excited to see how quickly they have embraced the discipline and patience that is required of them. Students program their robots with C language—one of the most popular computer languages used in science and business," Thorpe said.
The clubs use Lego Mindstorms kits, provided by Carnegie Mellon in Qatar, to build their robots. In addition to many standard Lego pieces like plates and bars, the kits feature technical pieces, such as touch and light sensors, as well as the RCX brick. Using an ordinary desktop computer, students send commands via infrared transmission to the brick, which dictates the robots' movement.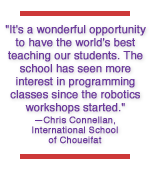 Judges at the Robo Challenge will include Matthew Mason, professor of computer science and robotics and director of the Robotics Institute, and Associate Professor of Robotics Illah Nourbakhsh.
Lobna Genena a club member from The International School of Choueifat, said, "I'm looking forward to the final challenge; it will be fun to compete against other schools. I've learned a lot about programming through the workshops."
"It's a wonderful opportunity to have the world's best teaching our students," said Chris Connellan, Deputy Director of the International School of Choueifat. "The school has seen more interest in programming classes since the robotics workshops started."
Carnegie Mellon in Qatar hopes that by pioneering such a robotics program it will motivate students to look seriously at future academic and career options in computer science. Perhaps one day the finest robots will read "Made in Qatar."
About Carnegie Mellon University in Qatar
Carnegie Mellon University in Qatar is the first international branch campus operated by Carnegie Mellon University, a private research university with a distinctive mix of programs in computer science, robotics, engineering, the sciences, business, public policy, fine arts and the humanities. In August 2004 Carnegie Mellon in Qatar began offering its internationally recognized undergraduate programs in business and computer science at the invitation of the Qatar Foundation. Joining Texas A&M, Virginia Commonwealth and Weill Cornell Medical College, Carnegie Mellon plans to open a new facility on the Education City campus in 2007. More information can be found at www.qatar.cmu.edu.


Lisa Kirchner
May 13, 2005