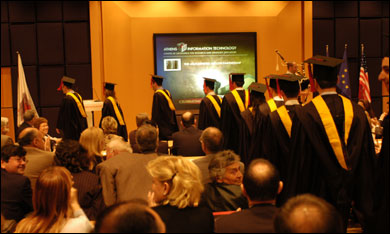 The graduating class includes students from India, Bulgaria, Romania, Lebanon, Greece, the Ukraine and the United States.
Carnegie Mellon University will award diplomas May 7 in Greece to its first international class of graduates enrolled in the MSIN (Master of Science in Information Networking) program offered by Carnegie Mellon's Information Networking Institute (INI) in collaboration with Athens Information Technology (AIT).
Carnegie Mellon President Jared L. Cohon will preside over the event and offer remarks.
Students from India, Bulgaria, Romania, Lebanon, Greece, the Ukraine and the United States will participate in a diploma ceremony featuring Pittsburgh entrepreneur and Carnegie Mellon Trustee John G. Rangos as the keynote speaker. He will speak about how this successful collaboration with AIT provides an important benchmark for the university's presence internationally and a strong commitment for promoting educational excellence worldwide.
"INI programs are leading the way in integrating technology, policy and business to educate the leaders of tomorrow," said Pradeep K. Khosla, dean of Carnegie Mellon's College of Engineering and co-founder of the Carnegie Mellon educational collaboration in 2001.
The new 29-member graduating class enters the marketplace with competitive problemsolving skills and the technical savvy so essential for success in today's fluid global marketplace, according to Dena Haritos Tsamitis, head of Carnegie Mellon's Information Networking Institute.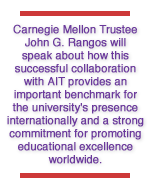 "I think that education, democracy and freedom remain the best formula for free markets, innovation and prosperity," said Rangos. "Our newly minted graduates will energize the global workforce with their technical skills and management expertise."
In fact, industry analysts report that as lower-priced technology floods the global marketplace, it helps generate new jobs, as companies that snapped up computers suddenly required software and workers who could adapt the products to their needs.
Carnegie Mellon and AIT began offering a four-semester program in September 2002 culminating in a master of science degree in information networking from Carnegie Mellon's Information Networking Institute. The INI was founded in 1989 by three of Carnegie Mellon's colleges: The Carnegie Institute of Technology (engineering), the School of Computer Science and the Tepper School of Business.
Classes ranging from the principles of broadband networking and managerial economics to software engineering are taught by faculty from Carnegie Mellon and AIT at a sprawling 100,000-square-foot building in Peania, a few kilometers from downtown Athens.
The program is led by Christos Halkias, AIT dean and Tsamitis, who is also the director of education, training and outreach for Carnegie Mellon CyLab, a university-wide, multidisciplinary initiative that builds on more than two decades of Carnegie Mellon's leadership in information technology and involves more than 200 university faculty, staff and students.
Khosla said the program is designed to tap the interest of mid-level professionals seeking to improve job skills and economic status in a variety of business sectors, including telecommunications, wireless computing, systems integration computing and financial services.

About AIT
AIT is an international research hub in software engineering, telecommunications and networking, embedded systems and electronics that fosters collaboration with other research centers in Greece and abroad. Founded in 2001 as part of the Research and Education Society in Information Technology, AIT is a nonprofit subsidiary of the INTRACOM group of companies. AIT's mission is to encourage the development of high-quality information and communication technologies and the professionals capable of creating technological breakthroughs for the 21st century.


Chriss Swaney
May 2, 2005