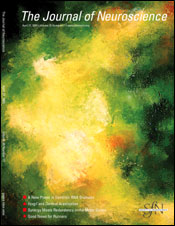 The painting on the cover of the April 27 Journal of Neuroscience is the brainchild of Joana Ricou, a fifth-year senior in Carnegie Mellon's Bachelor of Science and Art (BSA) program.

The artwork on the cover of the April 27 Journal of Neuroscience shows a mouse's brain, but the painting is really Joana Ricou's brainchild. The fifth-year senior in Carnegie Mellon's Bachelor of Science and Art (BSA) program created the "bioart" based on her experience in one of the university's neurobiology labs and her exploration of both science and art at Carnegie Mellon.

The story begins when Ricou graduated from high school more than five years ago in her native Portugal. With a strong interest in lab science, Ricou contacted her aunt, Mellon College of Science Professor of Mathematics Irene Fonseca, in an attempt to nail down a lab position for the summer. Fonseca found a willing taker in the form of Richard McCullough, then head of the Department of Chemistry and now dean of the Mellon College of Science (MCS).

While on campus, Ricou heard about the BSA program, which allows students gifted in both the arts and sciences to explore interests in the College of Fine Arts and MCS. Though she had been accepted at a university in Lisbon for bioengineering, simultaneously studying art was impossible in Portugal. The BSA program seemed a perfect match for her interests.

Ricou applied to Carnegie Mellon and was initially accepted into the biological sciences program, although she immediately announced that she "was going to be a BSA or die." (Luckily she was admitted in her senior year.) In the summer following her sophomore year, she worked in Associate Professor of Biological Sciences Alison Barth's lab, where she studied the structure of a mouse's brain. At the time, Barth was conducting research into a tool that would identify and study neurons activated in a living animal. She coupled a green fluorescent protein with a gene that turned on when nerve cells were activated. "Essentially we can just image the brain and see the green fluorescent protein glowing," said Ricou.

The fluorescing images of the mouse brain inspired her. "Eventually I decided to paint them," she said.

The paintings took shape in an independent study Ricou completed under the guidance of Patricia Maurides, adjunct professor of art and director of the Bachelors of Humanities and Arts and BSA programs.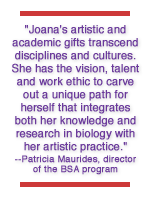 "Joana's artistic and academic gifts transcend disciplines and cultures. She has the vision, talent and work ethic to carve out a unique path for herself that integrates both her knowledge and research in biology with her artistic practice," said Maurides.
When her paintings were completed, Ricou added them to her collection and shifted her focus to other projects.
But in 2004, she and Barth reconnected at an MCS event. "I told her about the paintings and she was really excited about them," Ricou said. "I ended up taking them over to her lab and she really liked them. She bought them from me."
"I thought they were great," Barth said. "I was tickled that she would use my work, so I bought the pieces. It was really neat that someone would use my scientific work as inspiration for their art."
Barth's excitement and the pending publication of her research prompted her to submit Ricou's painting for the cover of the Journal of Neuroscience. Barth sent Ricou's painting to the journal in June 2004, originally pitching it for the issue that would include her own research findings. It was rejected. Then, nearly six months later, the journal emailed Barth out-of-the-blue. Ricou's painting would be used as the April 27 cover.
"They remembered the painting," said Barth. "That's really a feather in Joana's cap."
To the casual observer, the cover appears as an eye-catching contrast of bright yellows and greens on a background of deeper hues. But the piece is truly an artistic study of Barth's green fluorescent protein in action.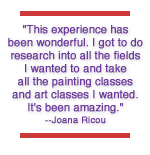 Using biology as inspiration for art might seem strange to some, but to Ricou it's a natural fit. The BSA program allowed her to do everything she wanted as a scientist and an artist. "This experience has been wonderful," she said. "I got to do research into all the fields I wanted to and take all the painting classes and art classes I wanted. It's been amazing.
"The point is to try to incorporate biology and art," she adds. "I have this great chemistry with some of the scientists in Mellon." Ricou talks with different scientists about their research and uses it to create her bioart.
Ricou's dedication to both science and art was often difficult and she met with some skepticism and confusion, but she found support in people like McCullough, who saw the importance of cross-disciplinary education. "Most people would say 'no, stay in science,' because it is a straightforward and safe path," Ricou said. "It was nice to have someone who was in science say 'you should be in art.'"
She also received unwavering support from Maurides, "the guiding light to all us crazy multidisciplinary people," Ricou said.
Ricou received a Fifth Year Scholarship from the university to extend her time at Carnegie Mellon and further explore the art/biology connection. "This year has been a chance to explore—go back to freshman classes that I never took, like clay and photography—and just pursue my painting to a new level," she said. She's sold four or five paintings and has another researcher interested in working with her.
Ricou plans to one day pursue a master of fine arts degree, but for now will stay in Pittsburgh, where she can display and sell her art in local galleries. In fact, she recently wrapped up a show in the University Center Art Gallery. But don't think that her work comes cheap because she's a student.
"I paid for my paintings in installments," said Barth. "I would buy more if I could afford them."


Susan Cribbs
April 29, 2005