Carnegie Mellon Schools of Drama and Music to Perform "Candide" April 21-23 and 26-30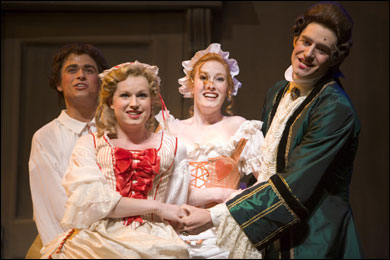 Graham Fenton, Joanna Brickey, Rebecca Stanley and Andrew Gehling (l-r) star in Carnegie Mellon's production of "Candide." (Photo by Joshua Franzos)
Carnegie Mellon University's schools of Drama and Music will collaborate to produce Leonard Bernstein's musical "Candide," April 21-23 and 26-30 in the Philip Chosky Theater in the Purnell Center for the Arts. Gregory Lehane, professor of directing in the School of Drama, will direct this production; Robert Page, professor of music and director of choral studies at Carnegie Mellon, will be the conductor and music director.
"The show is on a vast scale, spanning the globe and crammed with characters and incidents—a production on this scale requires the combined forces of the schools of Drama and Music, so we are thrilled at the chance to again profit from Drama's world-renowned excellence in design, production and performance," said Alan Fletcher, head of the School of Music. "Candide is a radiant theater piece, clearly one of Leonard Bernstein's masterpieces and thus one of the great American works of recent times. It offers dazzling musical fireworks, mordant wit, tenderness and grandeur."
Based on Lillian Hellman's adaptation of Voltaire's novella of the same name, "Candide" tells the story of a young man who must circle the globe trying to find his lover. His adventures take him all over Europe and South America as he tries to secure happiness and maintain a ridiculous optimism in the face of cruelty and oppression.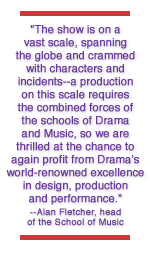 "'Candide' is a master work of the musical theater that pays homage to the Age of Reason, that time before the advent of the Romantic era, when philosophy, science and the arts informed each other," said Elizabeth Bradley, head of the School of Drama. "The piece is therefore a fitting conclusion to the science season and an ideal piece for our second collaboration with the School of Music."
Lehane is a professor of drama and music at Carnegie Mellon's College of Fine Arts. His productions have been seen around the world, including in the United States, Canada, Cairo and Moscow. He has also directed television programs for all three networks, PBS, TBS, Lifetime, Nickelodeon, USA and the Disney Channel. Lehane has received two Emmy® nominations for outstanding direction. In 2003, the Pittsburgh Post-Gazette named him director of the year. This season Lehane also directed the School of Drama's production of "Arcadia."
Page is the Paul Mellon Professor of Music and director of choral studies at Carnegie Mellon. Choirs under Page's direction can be heard on 40 discs issued by major recording companies, including Columbia, London, RCA, Telarc and Decca. Page has received eight Grammy® nominations and has received Grammy awards for recordings of "Catulli Carmina" and "Carmina Burana," a Grand Prix du Disque for "Porgy and Bess" and a Prix Mondial de Montreux for the world premiere recording of Shostakovich's "Symphony No. 13 (Babi Yar)."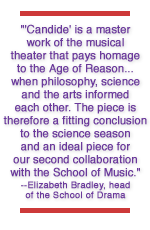 "Candide" has appeared on stage in several adaptations since the 1950s. "We're trying now to find the best of all the previous versions to create something fresh," said Lehane. "Carnegie Mellon plans to work with versions of the work recently staged in the United Kingdom - so in a way, our production will be a new approach to an enduring classic," Bradley added.
Carnegie Mellon's College of Fine Arts includes both the schools of Drama and Music, so there is an immensely talented student body to draw from for this musical production. "Candide is a great piece of American musical theater and is also popular in opera houses, so it is ideal to serve the needs of both our drama and voice majors," Lehane said.
The schools of Drama and Music are two schools of five within Carnegie Mellon's College of Fine Arts, which also encompasses the schools of Architecture, Art and Design. The College of Fine Arts sponsors arts-affiliated programs and research centers as well.
Performances will be 7:30 p.m. Tuesdays-Thursdays, 8 p.m. Fridays, and 2 and 8 p.m. Saturdays. To purchase tickets for "Candide," call the box office at 412-268-2407. For more information about the College of Fine Arts, visit www.cmu.edu/cfa or contact Eric Sloss at 412-268-5765 or ecs@andrew.cmu.edu.


Eric Sloss
April 20, 2005