In his dual university position, Smith (above) is charged with identifying and fostering opportunities for universities to enhance regional economic development.

Don Smith's office is tucked away on a narrow Oakland street, but it's strategically located at the center of a technology renaissance. A few blocks to the east, just past Craig Street, workmen are finishing the interior of the Collaborative Innovation Center. Several blocks to the west, at the corner of Fifth Avenue and Lothrop Street, the nearly finished Biomedical Science Tower juts into the sky. From the outside these two large structures may seem ordinary, but on the inside they'll harbor scientific research that will impact the region and the world.

Smith is happy. He knows that research equals economic development. And right now things look very good.

Smith is vice president of economic development for Carnegie Mellon University and the University of Pittsburgh, which together represent more than $800 million in sponsored research funding. And it's this funding that drives internationally acclaimed advances in computer science, robotics, biomedical research and engineering.

While most Pittsburghers appreciate these achievements, they generally don't realize that university-based research drives the region's economy, notes Smith.

"We have a formidable research presence," he says, pointing out that Pittsburgh is one of only five regions in the country that has dedicated R&D in computer science, engineering and medicine. "We couldn't have a better means to leverage from an economic development standpoint."

In his dual university position, Smith is charged with identifying and fostering opportunities for universities to enhance regional economic development. He has the demanding job of cataloging and coordinating economic development resources and initiatives across the universities. And he also interfaces extensively with strategic initiatives like the Pittsburgh Digital Greenhouse and the Life Sciences Greenhouse, enterprises whose establishment he spearheaded.

"Over the years, Don has played a key role in leveraging university strengths to make economic development a reality," says Richard McCullough, dean of the Mellon College of Science (MCS) at Carnegie Mellon and Chief Science Officer of the Carnegie Mellon spin-off, Plextronics, Inc. "MCS has benefited enormously from Don's insight and vision."

MCS knows the benefits of technology transfer. Its science has resulted in one of the top producing current licenses for Carnegie Mellon.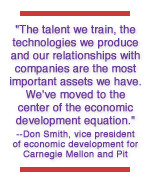 According to Smith, regional economic development begins with Carnegie Mellon and the University of Pittsburgh.
"The talent we train, the technologies we produce and our relationships with companies are the most important assets we have. We've moved to the center of the economic development equation."
Factors in that equation are the Collaborative Innovation Center and Pitt's new Biomedical Science Tower (BST), which will prominently showcase university impact. Owned by the Regional Industrial Development Corporation of Southwestern Pennsylvania, the Collaborative Innovation Center will be home to Carnegie Mellon scientists and companies focused on research in information technology and computer security. The BST will bring many new, talented faculty members to Pitt.
Training for a Unique Career
A native of northeastern Pennsylvania, Smith received a bachelor's degree in economics with honors from Harvard University in 1986 and a doctorate in public policy from the Heinz School in 1994. Through 2001, he held several key leadership positions to foster economic development. He was strategic projects coordinator for the Pennsylvania Department of Commerce; president of the Pittsburgh Digital Greenhouse, Inc.; interim director of the Pittsburgh Life Sciences Greenhouse; and special assistant to the president of Carnegie Mellon for economic development.
Then came the rare chance to become director of economic development for both universities.
"One day, Mark Kamlet called saying that the administrations had talked and they would like to make my position joint. The opportunity was too good to pass up."
In addition to his current role, Smith is vice president of the Mellon Pitt Corporation, a joint economic development venture between the two universities. Smith also holds an academic appointment as a Professor of the Practice at the Heinz School.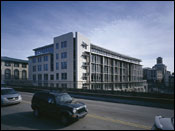 Smith knows that the research occurring within places like Carnegie Mellon's new Collaborative Innovation Center (above) drives the region's economy.
A Recipe for Success
Over the years, Smith has helped transform Pittsburgh into an economic development hub through his self-described roles as marketing strategist and liaison. Along the way, he's identified the necessary ingredients for success.
University leadership is critical, says Smith. "The relationship between Pitt and Carnegie Mellon is better than ever. The chancellor (Mark Nordenberg) and the president (Jared L. Cohon) are friends."
Faculty at Pitt and Carnegie Mellon also work together extensively. "It's really a collaborative economy and an interdisciplinary world right now. No one university or company can solve problems," notes Smith, who adds that collaboration between neighboring universities is not always strong.
Smith also sees the universities' strong partnership with the state and the evolution of Carnegie Mellon and Pitt's tech transfer offices as crucial milestones in leading regional economic development over the last decade.
But perhaps the single most important ingredient for success has been the growth of technology "greenhouses" that take state and foundation capital and invest it strategically to develop technology clusters. One aspect of this is recruiting talented faculty. This initial investment stimulates research funding from outside the region, which translates into more jobs.
"The Digital Greenhouse funded 21 faculty over five years, with $2.5 million in starting packages. In turn, these faculty have attracted more than $10 million in research funding and $2 million in payroll contributed by their universities," says Smith. "Every $1 million of research supports 31 local jobs, so that $10 million translates into 310 jobs. There's no other way to get 310 jobs for $2.5 million."
And Smith is quick to note that these jobs are created even before a university initiates a corporate collaboration or helps to generate a new company.
Once a university spin-off takes hold, though, the results can be impressive. "FORE Systems was started by four Ph.D.s from Carnegie Mellon. It grew to employ more than 1,000 people, including production workers, sales staff and others. Research is creating jobs for a diverse range of people," Smith says.
And companies like FORE Systems and Free Markets not only create jobs for many in western Pennsylvania, they recruit talent from all over the world.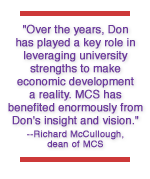 For university colleges and schools like MCS, the regional greenhouses have fueled the creation of local biotech and electronics companies that now court national and international customers.
Remaining Challenges

In the last decade, Smith has witnessed the number of startups in the region go from 50 to 250. But he acknowledges that much remains to be done.
A report by the Pennsylvania State Government released this January gave mixed news. It found that the state featured a heavy concentration in research and development compared with other benchmark states. But the report also suggested that the state could improve the commercialization environment for university-issued patents and the extent of public and private investment for new companies.
Smith believes that economic development requires time and persistence.
"Institutional and attitudinal change for the region is hard. To the world, universities are incomprehensible, impenetrable institutions. Academe and commerce are different. They just don't understand each other. They are driven by different incentives."
A member of both business and academia, Smith considers himself a necessary translator to bridge a major communication gap.
"I really want to help both sides understand and believe that our fates are interdependent. The future of the region is technology based. We can choose this economy or we can choose to lose."
That's an easy decision to make for Smith and southwest Pennsylvania.


Lauren Ward
April 18, 2005