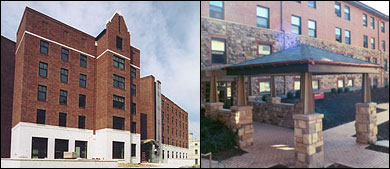 New House (left) and Henderson House (right) have both received LEED silver certification, making them two of the nation's healthiest, most energy-efficient residence halls.
Carnegie Mellon's official colors might be tartan plaid, but the university is growing greener by the minute.
In its latest "green" victory, Carnegie Mellon has received a 2004 Governor's Award for Environmental Excellence from the Commonwealth of Pennsylvania for its dedication to "green practices." Specifically, the award cited the university's commitment to assuring that all new campus construction achieves silver certification from the U.S. Green Building Council's Leadership in Energy and Environmental Design (LEED) program.
The award honors Pennsylvania businesses and organizations for implementing projects that take on environmental problems in ways that build new business, enhance the bottom line and engage residents in a renewed commitment to investing in their communities. "This year's winners are saving resources, saving money and helping to build a healthier, stronger Pennsylvania," said Environmental Protection Secretary Kathleen A. McGinty, who presented the award at an April 1 ceremony at New House.
"We appreciate the efforts of the Rendell Administration in support of environmental excellence. And we are honored to be presented with this award by Secretary McGinty," said Provost Mark Kamlet, who accepted the award for the university.
Carnegie Mellon received its first LEED silver certification in the fall of 2003 for New House, the $12.5 million residence hall located between Morewood Gardens and Mudge House. As the first "green" residence hall in the United States, New House features elements like a continuous air circulation system, carpeting made from recycled materials and an Energy Star white roof that make it one of the nation's healthiest, most energy-efficient residences for college and university students.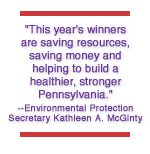 The university earned its second LEED silver certification earlier this year for the renovation of Henderson House, one of the original residence halls designed by architect Henry Hornbostel. Like New House, Henderson House is packed with energy-efficient, sustainable features. Each of its contemporary suite-style rooms has mechanical fresh air circulation and individual air/heat controls. All furnishings in the residence hall are "green," meaning they're made from certified forests or recycled content.
The LEED system is a voluntary, consensus-based national standard for developing high-performance sustainable buildings. It provides a complete framework for assessing building performance and meeting sustainability goals in categories including sustainable sites, water efficiency, energy and atmosphere, materials and resources, indoor environmental quality, and innovation and design.
"Carnegie Mellon's adoption of sustainable or 'green' building principles demonstrates its commitment to the health and well-being of young people today and in the future. This is really about the next generation," said Rebecca Flora, executive director of Pittsburgh's Green Building Alliance and board member of the U.S. Green Building Council. "I believe we educate by doing the right thing and modeling right behavior. By doing green development, Carnegie Mellon has set a standard that I hope all of its students will follow into their future lives," Flora said at a ceremony for New House in September 2003.
The Department of Environmental Protection received 82 applications for the 2004 Governor's Award for Environmental Excellence. The 11 winners were chosen based their overall environmental benefit, public service, economic impact, use of innovative technology, teamwork and environmental education and outreach.
Other winners include Harley-Davidson, St. Mary's Pressed Metals Inc., Pfizer Inc., Foamex, Meadville Area Water Authority, Westmoreland Conservation District, Reliant Energy Seward LLC, Philadelphia Million Solar Roofs Partnership, PA Army National Guard Combined Support Maintenance Shop East and Wells Creek Watershed Association.
For more on the awards, visit http://www.dep.state.pa.us/.


Susan Cribbs
April 1, 2005