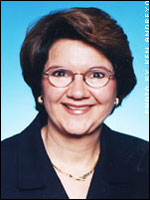 Cristina Amon

Carnegie Mellon University's Cristina Amon has been named one of America's 50 most important Hispanics in technology and business by the editors of Hispanic Engineer and Information Technology Magazine.

Amon, the Raymond J. Lane Distinguished Professor of Mechanical Engineering and director of the Institute for Complex Engineered Systems (ICES), was selected for the award because of her outstanding work in the field of technology and her contributions in developing great science and engineering programs that serve as a role model for tomorrow's technology leaders.

"The recognition is very meaningful for me because it allows me to become a stronger role model for our Hispanic students at Carnegie Mellon and the Hispanic community," said Amon, who is also the 2003 recipient of the Hispanic Engineer of the Year Award in Education.

Her research pioneered the development of Computational Fluid Dynamics (CFD) for thermal management and design of portable electronics such as laptops and wearable computers. Throughout her career, Amon has engaged in multidisciplinary research activities at the interface of traditional disciplines. Her research group is investigating applications to develop micro fuel cells, hemodynamics in biological systems and nano-scale transport phenomenon in semiconductors.

"This award is a tribute to Professor Amon's innovative research and dedication to help Hispanic students excel in school and work," said Pradeep K. Khosla, dean of Carnegie Mellon's College of Engineering. "We applaud her efforts and hope that this recognition will help others develop leadership roles for a broad segment of our academic community."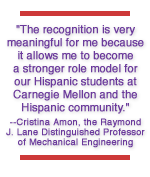 Amon has developed multidisciplinary design courses for both undergraduate and graduate students that integrate education, research and engineering practice through industry involvement. She is the architect of the Engineering Your Future Program for Pittsburgh area 8th and 12th graders to introduce them to the excitement and opportunities of engineering careers.
And as director of ICES since 1999, she has conceived and led interdisciplinary research initiatives, seeded high-impact projects, fostered a culture of innovation and promoted strong interactions with industry, particularly in western Pennsylvania. This work also has enabled the creation of an environment linking Pennsylvania industries, agencies and students to improve industry competitiveness through knowledge transfer as well as to increase the retention of graduates in the region.
Active in many professional and honorary societies, she is a fellow of the Society of Mechanical Engineers (ASME), a fellow of the Institute of Electrical and Electronic Engineers (IEEE) and a fellow of the American Association for the Advancement of Science (AAAS). She is currently serving as president of the Society of Women Engineers (SWE) Pittsburgh Chapter, and she is the elected chair of AAAS Engineering, the largest worldwide scientific society.
Amon has won numerous awards, including the George Westinghouse Award for advancing engineering education, the Ralph Coats Roe Award for outstanding contributions to the engineering profession, and the ASME Electronics and Photonics Packaging Division Award for pioneering contributions to the engineering and science of thermal management of electronics. She has published more than 200 papers on her research and engineering education.
The latest accolades will be presented to her at an awards colloquium and dinner where the "Digital Economy" will be discussed Sept. 16, 2005, in Baltimore, Md.
Hispanic Engineer & Information Technology magazine is published by Career Communications Group, Inc., a minority-owned talent management and career development company whose mission is to promote career and educational opportunities for minority professionals in the fields of engineering, science and technology.


Chriss Swaney
March 29, 2005