Jazz Ensemble Earns Superior Rating at Collegiate Festival at Notre Dame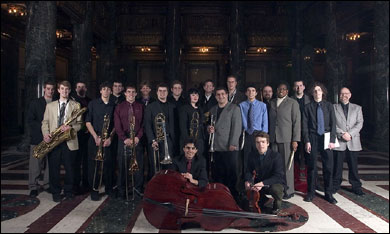 The Carnegie Mellon Jazz Ensemble earned 33 of a possible 35 points at the Collegiate Jazz Festival at Notre Dame.
The Carnegie Mellon 6:30 Jazz Ensemble, under the direction of David Pellow, received a superior rating, garnering 33 of a possible 35 points, at the 47th annual Collegiate Jazz Festival (CJF) at the University of Notre Dame in late February.
"For nearly half a century, the CJF has been bringing fantastic college jazz bands, phenomenal jazz artists and a national audience together in a celebration of jazz and all it stands for," Pellow said.
This year's judges included the Lynn Arriale Trio—Jay Anderson, bass, Steve Davis, drums, and Frank Catalano, tenor sax—and Andre Hayward, a renowned trombonist.
Jazz bands from Western Michigan University, Oberlin Conservatory, University of Illinois, Middle Tennessee State University, Jacksonville State University and Notre Dame performed over two evenings. Additional performances included the Lynn Arriale Trio and the CJF Alumni Combo. Students also took part in clinics conducted by the featured artists.
The Carnegie Mellon ensemble performed a swinging set of classic big band jazz charts by the Woody Herman Thundering Herd, Sammy Nestico, Toshiko Akiyoshi and Dizzy Gillespie. Highlights were sax section solos on "Four Brothers," "The Tribute to Lester Young" by the Herman Band, and the famous Charlie Parker break and solo from Gillespie's "A Night in Tunisia."
Featured Carnegie Mellon soloists included: John Wylie, alto sax; James Siders and Maxim Tsvetevat, flute; Sean McGarril, trumpet; Matthew Merewitz, tenor sax; Joseph Arnold, violin; David Weitzman, piano; Benjamin Karp, Diana Henderson and Brian Luczkiewicz, tenor sax; and Charlie Ciccia, lead trumpet.
Wylie and Tsvetevat received "excellent solo performance" certificates. Carlos Chadha , bass, and Siders, Karp and Merewitz were awarded certificates for "excellent performance."
The Carnegie Mellon Jazz Ensembles are made up of students enrolled in colleges around campus with the core group made up of players studying in the School of Music with a Jazz Performance minor.


Eric Sloss
March 16, 2005