The difference among cultures is ignorance and borders, says Hussein Al Baya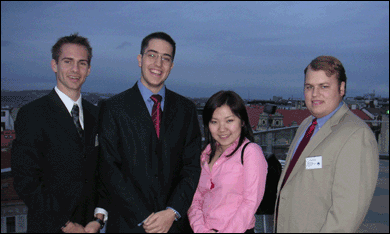 Kris Elder, Hussein Al Baya, Linda Yang and Phillip Schrader pose on the balcony of PricewaterhouseCoopers overlooking Prague. The students attended a symposium at PWC to discuss international corporate policies and regulations.
Four Carnegie Mellon students recently played the part of world leaders trying to solve the problems facing society today. From debating the Israeli-Palestinian conflict to meeting with senators and ambassadors of foreign countries, Hussein Al Baya (TPR'06), Kris Elder (HS'06), Linda Yang (TPR'05) and Phillip Schrader (HS'05) got a first-hand look at global politics and international relations at the International Youth Leadership Conference in Prague.
Through classroom simulations, field trips and organized political sessions, they engaged in a cross-cultural exchange of ideas concerning the future of world leadership.
Approximately 100 students from 54 countries participated in the January conference.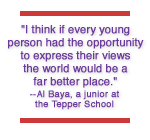 "I feel very privileged to have been given the opportunity to attend the conference and mix with so many different people from places I had only heard of," said Al Baya, a junior at the Tepper School of Business who is studying abroad at the London School of Economics this year. "Human nature is universal and the only separation between cultures is ignorance and borders. I think if every young person had the opportunity to express their views the world would be a far better place."
"The best part of the conference was the extreme variance in cultures and experiences brought forth by each student," said Elder, who is studying abroad in Chile. "It was fascinating to see how different people's cultural backgrounds weighed in on the political issues we discussed as a group."
Schrader also says he enjoyed learning about the various cultures, but his favorite aspect of the six-day conference were the European Parliament proceedings. "All of the lobbying and working as a group instead of individually is what I really enjoy, and playing the role of party whip was especially fun since I had to coordinate with everyone," he says.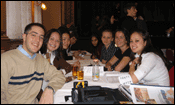 Hussein Al Baya (left) was part of the Green Party delegation at the Parliamentary simulation held at the Rudolfinum.

Prague, in the Czech Republic, lies amidst the rolling green mountains that surround the country of spa towns, sandstone rocks, idyllic villages and silver fishponds. It's adorned with renowned medieval castles and picturesque gothic cathedrals.

"Imagine students from all over the world, in one of the most beautiful and historic places in the world, discussing the real issues of our global community," says Dean of Student Affairs Michael Murphy, who sponsored the trip. "Aside from my sheer envy, I know that Hussein, Kris, Linda and Phil represented the university with great distinction. I am delighted they were all able to attend, with special thanks to Stephanie Wallach (academic advisor and internship coordinator, History Department) for her dedication to making this come to pass for our students."



Bruce Gerson