Award recognizes leaders who foster curriculum, administrative and social change on campus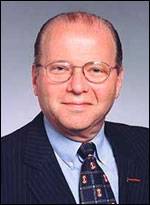 Carnegie Mellon and its president, Jared L. Cohon, are among the winners of the Academic Leadership Award.

The Carnegie Corporation of New York has announced that Carnegie Mellon University and its president, Jared L. Cohon, are among the winners of the newly established Academic Leadership Award. The award recognizes leaders of higher education institutions who have demonstrated an abiding commitment to liberal arts and have initiated and supported curricular innovations, including development of interdisciplinary and multidisciplinary programs that aim to bridge the gulf between the theoretical and the practical. The award also honors leadership that supports K-12 reform and emphasizes community outreach.

In addition to Cohon, Henry S. Bienen of Northwestern University and Don M. Randel of the University of Chicago received the award. Each leader will receive $500,000 to be used for their academic priorities.

"These academic leaders have been articulate voices in defense of liberal arts, robust undergraduate education, the university's role in K-12 education and the university's commitment to their cities and communities," said Vartan Gregorian, president of the Carnegie Corporation. "All three have demonstrated the fact that excellence in leadership is much more than effective management. They all believe in a tradition of academic excellence and have proven that presidential leadership and faculty quality are the critical elements that distinguish one university from another."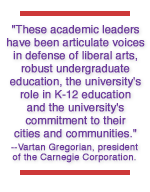 Carnegie Mellon was honored for its commitment to interdisciplinary education and ability to integrate academic and co-curricular experiences. The Carnegie Corporation highlighted the university's emphasis on scientific advancement through theory and student-driven, hands-on research, as well as its commitment to the environment.
According to the corporation, "There is now a problem-solving, reflective practitioner's approach to undergraduate education. Clearly, the university proves that integration of campus intellectual centers can enhance the entire institution."
The Academic Leadership Award is viewed as an investment in leadership by the corporation and builds on the foundation's long tradition of developing and recognizing leadership in higher education. The selection process is initiated by the corporation and does not depend on external nominators or recommendations.
Carnegie Corporation of New York was created by Andrew Carnegie in 1911 to promote "the advancement and diffusion of knowledge and understanding." The corporation seeks to carry out Carnegie's vision of philanthropy, which he said should aim "to do real and permanent good in the world." For more on the award, visit http://www.carnegie.org/sub/news/leadership.html.