by Christina England, Writing Center Director, Carnegie Mellon in Qatar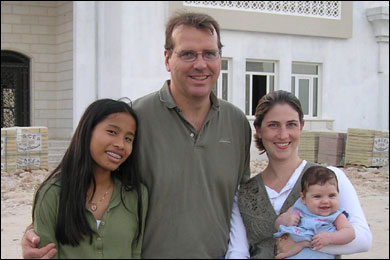 Christina England with her husband, Ken, and daughters Linh, 15, and Kiran, 6 months.
When people ask me what it's like to live in Qatar, I answer, "It's the same, but different." I know that's not much of a response, but it's true! I get up in the morning, get my older daughter ready for school, go to work at the university, pick up my daughter from soccer practice, come home and help with homework, shop at the grocery store or the mall, and have dinner.
But I also leave my 5-month-old daughter with our live-in Nanny/Housemaid, who will clean the house and possibly cook dinner for us. I'll go to the Souq (traditional market) to shop for many things I don't want to pay overblown prices for, especially if I'm in the mood to bargain. On the weekends we might go dune-bashing, and ride up and down 4-story high sand dunes along the coast to the Inland Sea for a picnic and a swim. And did I mention the weather? Right now it's fabulous, in the 70s and sunny. Of course, that will change dramatically in May and June when it will heat up. In August temperatures can reach up to 120!
Is it what I was expecting? Well, I'm not sure. I was seven and a half months pregnant when we moved, so I didn't really have any expectations. I wasn't worried about many of the things that people have been concerned about, terrorists, war, car bombs, and kidnappings, because I knew this is a safe place—safer than the U.S. in many ways. But I have traveled a lot and know that you can't come into a new situation with strong expectations because you will miss out on a lot. To be honest, I was much more concerned with the fact that I was having a baby regardless of the location.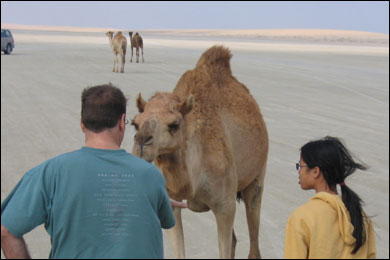 Ken and Linh make friends with a wandering camel.
What do I miss about Pittsburgh? Not counting family and friends, I think the thing I miss most is trees. But not a day goes by that I don't see or experience something new. I have never been one to shy away from an adventure and we have certainly found one here!
Most people who ask about Qatar really want to know about the people. To borrow a phrase from a student, all Arabs do not live in tents and drink petrol. They do not hate Americans and not all women cover their faces. People are very friendly and helpful, most speak English and are well educated. While many people wear the traditional robes, they are not required and there are many people who do not wear them (although I believe that this may be dictated by families, and different countries have different rules regarding this).
And what do women wear under the abaya (the long black robe)? Arab women are really into high fashion! This fashion is not wasted, however, since the abaya is only worn in public or in the presence of men who are not related. When women get together, they shed the robes and love to look great! I have confessed to some of the students that if I had the opportunity to wear the abaya, I would just go around in my pajamas!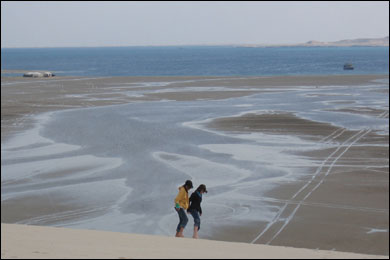 Linh and her friend play on a dune. The Saudi Arabian border lies in the distance.
There are actually more expatriates in Qatar than Qataris, I think. Many are Arabs, but there are people from all over the world working in universities, K-12 education, oil companies and other businesses. There are also many laborers from around the world working in stores, as housekeepers and in construction. I have met people from the UK, Australia, France, India, Nepal, Sri Lanka, the Philippines and all over the Arab World. And I have never met anyone who disliked Americans or questioned my politics.
After a trip to Pittsburgh in November, I asked my students what they would have wanted me to tell people when they asked about my life in Qatar. The overwhelming response was: "We are just like them!" They have access to western media and feel that they are portrayed unfairly, hence the living in tents and drinking petrol comment. They like clothes, movies, music and one student in particular loves Oprah. The girls giggle in the hallways and the boys look cool. They are concerned about their grades and want peace.
And they are students at Carnegie Mellon University.
About the author:
Before becoming director of the Writing Center at Carnegie Mellon in Qatar, Christina England worked for several departments at Carnegie Mellon's Pittsburgh campus, including Administrative Computing and Information Services, the Institute for Complex Engineered Systems, Computing Services, and most recently the School of Design. A freelance designer for nearly 10 years, England earned her master's degree in communication planning and information design at Carnegie Mellon in 2001.
England and her husband, Ken, who works for Computing Services at the Qatar campus, are self-proclaimed "travel junkies." They spent a semester at sea in 1998 and have traveled to many countries in North and South America, Africa, Europe and Asia.
Christina and Ken have two children, Linh (15) and Kiran (6 months.) Kiran was born in Doha, Qatar.