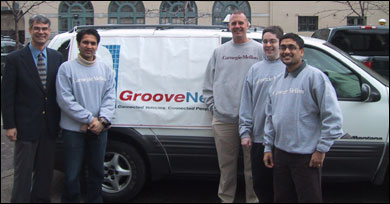 Electrical and Computer Engineering (ECE) Professor Dan Stancil, Suchit Mishra, a master's degree student in the Information Networking Institute, and ECE students Jacob Meyers, Dan Weller and Rahul Mangharam are members of the GrooveNet project team. The team is turning the family vehicle into a mobile sensor capable of detecting traffic jams and icy roads.
In the future will we still drive our cars, or will our cars drive us?
The latter may be closer to the truth, according to Carnegie Mellon researchers who are creating the new car of the future, equipped with wireless networks and Global Positioning Satellite technology to keep drivers and passengers safe and on time wherever they are headed.
Today, many vehicles already have onboard navigation systems, infrared night vision, in-car satellite links, antiskid brakes and other electronic devices ready to take control when we screw up behind the wheel. But just around the corner, according to Carnegie Mellon researchers in the university's General Motors Collaborative Lab, are smart highways embedded with millions of tiny sensors, and even smarter cars that are aware of the traffic that is flowing around them.
In the not-to-distant future, researchers predict drivers will navigate from their home to the nearest freeway entrance ramp, at which time the collision-detection computer will take over. Commuters will be able to safely travel down the highway at high speeds while checking the NASDAQ, searching eBay and gabbing on the cell phone.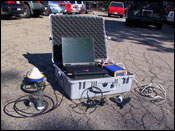 The GrooveNet team is equipping vehicles with a GPS receiver and antenna, laptop computer, 5.8 GHz antennas, headphones with a microphone and Web cam.

"There is simply no limit to what we can achieve as the technology improves," says Ed Schlesinger, head of Carnegie Mellon's Electrical and Computer Engineering (ECE) Department and founding director of the General Motors Collaborative Lab. "Cars will become nodes in a worldwide network delivering information to that network and getting information from it. You won't have to search for a place to stop for lunch; for example, the car will make recommendations based on your likes and dislikes," he says.

Carnegie Mellon researchers are developing technology that will make it possible for cars to communicate, giving drivers critical information about road conditions, traffic and, ultimately, where the best parking spot can be found. Through a new peer-to-peer networking system, called GrooveNet, Carnegie Mellon researchers are turning the family car into a mobile sensor capable of detecting traffic snarls and icy roads.

"That information can help drivers quickly change routes or modify speed to prevent serious accidents," Schlesinger says.

"Essentially, what we are doing is allowing vehicles to relay information between themselves and the Internet at large," says ECE Professor Dan Stancil.

Industry analysts also report that cars equipped with network sensors could help control traffic patterns. For example, a typical highway lane can accommodate 2,000 vehicles per hour, but with increased automation that capacity could be expanded to 6,000 per hour depending on the spacing of road entrances and exits and the ability of peer-to-peer networks to monitor a vehicle's location and velocity.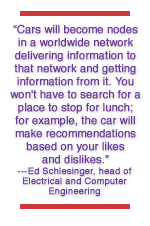 A number of projects are focused on the manner in which cars are designed and how the systems within the vehicle configure themselves to optimize the overall system performance. One of these projects, called The Gesture Interface, gives drivers the ability to point or wave to control the car's electronic system. The team installed cameras to watch for gestures that would normally serve as the driver's commands. There were also microphones attached to the driver's seat belt so the vehicle's speed recognition system could accept verbal commands from the driver.
"Our goal is to present this information in a way that enhances the driving experience and creates systems that increase safety," Schlesinger says.
Carnegie Mellon researchers are also working to develop an automatic stop sign detector for vehicles by mounting cameras on vehicles to measure the time it takes for drivers to stop at dangerous intersections.
Other GM lab work includes studying ways to make the car's computer systems be more "context aware" so that a computer system will know enough about the driver and the vehicle's surroundings that it can anticipate when a driver needs certain information.
In 2000, Carnegie Mellon established the General Motors Collaborative Lab with a $3 million grant from General Motors. Since then GM has increased its support with a six-year, $8 million award. More than 150 Carnegie Mellon engineering alumni work at GM plants and labs worldwide.


Chriss Swaney