Visit Recognizes University's Strong Relationship with Sony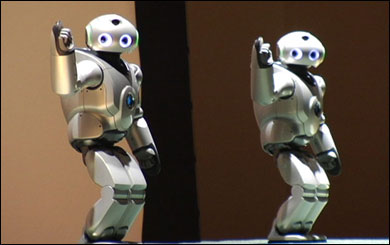 Two QRIOs worked as a team, side-by-side, showing off their abilities to a packed audience in Rangos Hall. In addition to dancing (above), they walked, kicked a tiny soccer ball and got back up after being pushed over.
Sony Electronics Inc. President and Chief Operating Officer Hideki "Dick" Komiyama brought his company's "corporate ambassador," QRIO, to Carnegie Mellon to demonstrate the two-and-a-half-foot tall, autonomous, interactive humanoid robot to the campus community. The first visit to an American university by QRIO on Jan. 28 was a testament to the strong relationship Sony has with Carnegie Mellon computer science and robotics researchers, particularly Computer Science Professor Manuela Veloso.
Komiyama said that Sony has enjoyed a 20-year relationship with Carnegie Mellon and that Sony has been the "recipient of some very skilled graduates of the school." He noted the company's support of Veloso's research with Sony's AIBO four-legged entertainment robots. Since 1998, Veloso and her students have worked with the AIBO "robotic dogs" honing their soccer-playing skills to demonstrate teamwork and multi-agent learning.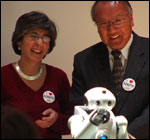 Computer Science Professor Manuela Veloso and Sony President and Chief Operating Officer Hideki "Dick" Komiyama watch as a QRIO struts its stuff.

Carnegie Mellon teams have participated in the International RoboCup Legged competition since its inception in 1998, winning two world championships (1998, 2002). They also were champions in the first two U.S. Opens (2003 and 2004). Veloso said that someday she'd like to have QRIO officiate a robotic soccer match.

Two QRIOs worked as a team, side-by-side, showing off their abilities to a packed audience in Rangos Hall. They walked, danced, kicked a tiny soccer ball and got back up after being pushed over. They even displayed their sense of humor, complaining about the freezing temperatures and expressing their desire to eat at two legendary Pittsburgh establishments, Primanti's and the Original Hot Dog Shop.

QRIO, whose name is a play on the word curiosity, combines cutting-edge artificial intelligence (AI) and dynamics technologies. It can move on its own accord, gather information, recognize people's faces and voices and carry on conversations. Prior to the demonstration Veloso challenged the audience to "appreciate" the robot's cognitive and physical capabilities and to understand that "there's so much science behind QRIO."

For more information on QRIO see: http://www.sony.net/SonyInfo/QRIO/.



Anne Watzman
Bruce Gerson