Henderson House Earns LEED™ Silver Certification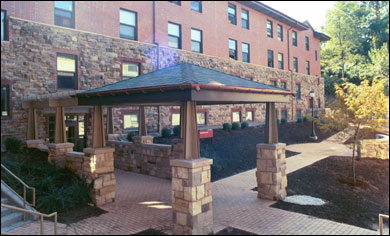 One of the original dormitories designed by architect Henry Hornbostel, Henderson House underwent a $3.9 million renovation that resulted in a LEED Silver certification for its energy efficiency and commitment to sustainability.
From the outside, even Andrew Carnegie would have trouble discerning the difference between the old Henderson House that he commissioned and the newly renovated version that opened its doors last August. That's because the changes—the ones that earned it a Leadership in Energy & Environmental Design (LEED™) Silver certification from the U.S. Green Building Council—lie deep inside its impressive fieldstone walls.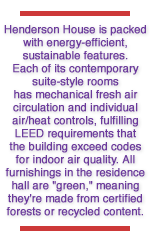 One of the original Carnegie Technical Schools dormitories designed by architect Henry Hornbostel, Henderson House underwent a complete $3.9 million renovation between 2003 and 2004. The process began in 2002, when the university commissioned RSH Architects to develop plans to renovate the building and expand its occupancy from 40 to 60 students. The Henderson renovation required careful consideration of site, architectural design, building systems, energy conservation and construction technology to comply with Carnegie Mellon's commitment to environmental practices and sustainable development.
"We responded successfully to several significant challenges in the design of Henderson House", said David Noss, AIA, principal and project manager for RSH Architects. "Material selections meet or exceed recycled content requirements, yet conform to life safety code mandates and the university's stringent service and performance standards. We worked closely with Carnegie Mellon's Housing Services and Facilities Management Services and Mosites Construction, the general contractor, to coordinate construction activities in accordance with LEED requirements." Noss' team of architects for the project included alumni Ted Schroeder (A'70), Art Ruprecht (A'70) and the late Richard Hoffman (A'70).
Like its cousin New House, which was the first residence hall in the nation to receive LEED certification in 2003, Henderson House is packed with energy-efficient, sustainable features. Each of its contemporary suite-style rooms has mechanical fresh air circulation and individual air/heat controls, fulfilling LEED requirements that the building exceed codes for indoor air quality. All furnishings in the residence hall are "green," meaning they're made from certified forests or recycled content.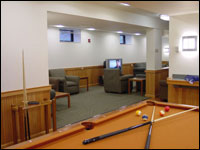 As part of the renovation, an additional floor was added to Henderson House and its common rooms (like the lounge above) were reorganized on the first floor.

In addition to making Henderson House more "green," the renovation also preserved the building's trademark two-story fieldstone walls. The entire building was demolished except for the walls, which were braced in place until the new building could be completed inside and attached to them. An additional floor was added to the residence hall and its common rooms (a fitness room, rec room, full kitchen, dining/meeting room and a TV lounge) were added to the first floor. With the addition of an elevator and a new sidewalk, Henderson not only promotes sustainability, but also provides total accessibility to its functional areas.

Henderson House is home to the Wellness Housing project, offered jointly by the offices of Athletics, Health Services, Housing Services, and the residential life staff. The program establishes a wellness-focused community environment in Henderson House and maintains an alcohol-, tobacco- and drug-free environment within its walls. Students living in Henderson House take advantage of health education initiatives and peer support opportunities provided on campus and must participate in at least two health education opportunities per semester sponsored in the residence hall by students or staff.



Susie Cribbs