Paul Goodman
Paul Goodman, a professor at Carnegie Mellon University's Tepper School of Business, will host the premiere of "Escola de Samba," a one-hour documentary he created about how 4,000 Brazilians work to create the country's annual carnival, at 1:30 p.m., Sunday, Jan. 16, at The Carnegie Art Museum Theater in Oakland. Admission is free.
"Escola de Samba" follows the work of a Brazilian group called "Camisa Verde e Branco" (Green and White Shirts) over a 10-month period, in which they selected a theme, prepared music, costumes and three-story-high floats, and conducted rehearsals to compete against other Brazilian groups in the annual grand festival in San Palo.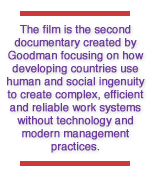 The film is the second documentary created by Goodman focusing on how developing countries use human and social ingenuity to create complex, efficient and reliable work systems without technology and modern management practices.
Goodman's first documentary, "The Dabbawallas," explored the work of 4,000 dabbawallas, or "box people," who correctly deliver more than 100,000 lunches daily to homes in Mumbai, India, by bicycles, carts and trains. "The Dabbawallas" has appeared on many PBS stations across the country.
Goodman said a third documentary will chronicle the work process of the "ship breakers" in Vietnam and China. These workers dismantle large cargo ships by hand to salvage and sell their scrap metal.
Goodman, the Richard M. Cyert Professor of Organizational Psychology at the Tepper School, is a nationally recognized authority on the design and function of effective organizations. He has authored many books on the subject and has produced more than 20 educational films on work and workers in the U.S. and abroad. The films are used by more than 100 universities.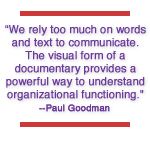 "We rely too much on words and text to communicate," Goodman says. "The visual form of a documentary provides a powerful way to understand organizational functioning."
Goodman says lessons can be learned from these large-scale, non-technical work systems in developing countries.
"Human and social ingenuity builds very strong relationships and loyalty between workers and organizations, which in turn, leads to high levels of effectiveness."
Many Carnegie Mellon faculty, staff and alumni collaborated with Goodman to produce "Escola de Samba." Collaborators include alumnus Robert Liang Koo, and faculty and staff Jane Bernstein, Ralph Vituccio, Denise Rousseau, Alberto Almarza, Riccardo Schulz, Dan VanHassel, Lilly Abreu, Marilu Lundeen, Betty Cosnek and Bernie Leppold.
A Q&A session with Goodman will follow the "Escola de Samba" premiere.


Bruce Gerson