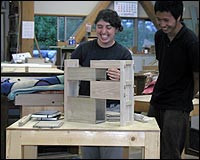 Deniz Secilmis was one of 17 students who participated in a study abroad program in Japan last summer. As part of the trip, the future architects collaborated with students at the Shinrin Takumi Juku, a traditional woodworking school in the Japanese Alps.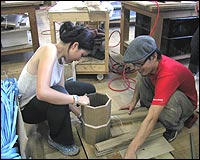 Architecture student Joan Lee (left) and her partner finesse the final design of their portable studio.

A summer study abroad program in Takayama, Japan, may lead to a lucrative business opportunity for 17 architecture students.

Collaborating with students from the Shinrin Takumi Juku, a traditional woodworking school in the Japanese Alps, the students worked in teams to design and create prototypes of portable studios for traveling and displaced designers. The students are now investigating patent and copyright options and the founder of Shinrin Takumi Juku has offered to manufacture and sell their designs.

Assistant Professor of Architecture Stephanie Bartos, who planned and organized the trip along with Adjunct Instructor Brent Buck (A'03), said the students' work was enriched by the intercultural collaboration that took place.

"Our original intention was that the Japanese students would facilitate our students' ideas and designs, but within hours we had nine teams working together in complete collaboration," Bartos said. "Ideas and technical suggestions were flying in both directions and the results speak for themselves."

The tangible results of the portable studio collaboration were items that could hold materials a traveling designer would need on a regular basis. The surface of the portable studio had to double as a work surface and the entire contraption had to be about as sturdy as luggage.

Beyond the polished portable studios, though, the students also brought home valuable experience from Japan. Some of them learned skills or made connections that will stay with them forever.

"It was truly a remarkable experience to learn the art of Japanese joinery from such accomplished artisans," said fourth-year architecture student Jonathan Scelsa. "I would say the most fantastic part was designing side-by-side with the Japanese students. We built memories there that will last a lifetime."
"It was a great experience to work so closely with the Japanese students," said Yu-Ling Mei, a fifth-year senior in architecture. "I learned a great deal, and also gained a better understanding and appreciation of Japanese woodworking and culture in general."
The groundwork for the study-abroad program was established in part by Yu Inamoto (A'97), whose father is a master craftsman and one of the founders of a cooperative associated with Shinrin Takumi Juki. The National Collegiate Innovators and Inventors Alliance also provided assistance.
Students involved in the portable studio project were Joan Lee (A'06), Elizabeth MacWillie (A'07), Yuling Mei (A'06), Byung Wan Kim (A'05), Chris Nannig (A'05), Deniz Secilimis (A'06), Liz Beck (A'06), Sae-Mi Lee (A'06), Seth Hunter (A'06), Emily Brayton (A'07), Stella Hsu (A'06), Liz Jordan (A'06), Jon Scelsa (A'06), Gabe Cheung (A'05), Jessica Tidd (A'05), Emily Bush (A'06) and Gary Tsai (A'06).
Bartos has been asked to present a paper analyzing the learning experience at the Hawaii International Conference on Arts and Humanities, Jan. 13-16, 2005.
Sarah Fait