Chemistry Professor Krzysztof Matyjaszewski Receives Poland's "Nobel Prize"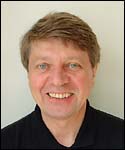 Krzysztof Matyjaszewski ranked 6th in a list of the top 100 scientists compiled by Essential Science Indicators.

Krzysztof Matyjaszewski, the J.C. Warner University Professor of Natural Sciences at the Mellon College of Science (MCS) at Carnegie Mellon University, has received the award of the Foundation for Polish Science, commonly called the Polish Nobel Prize. The award, granted for the "discovery and commercialization of new methods of controlled radical polymerization," was presented at a ceremony on Dec. 3 at the Royal Castle in Warsaw.

Granted annually by the foundation since 1991, this award is given to outstanding scientists whose achievements and discoveries within the last four years "constitute an important contribution toward the advancement of science, spiritual life and civilization in Poland," and that grant Poland "an important place in the international community of science."

Matyjaszewski is a University Professor and director of the Center for Macromolecular Engineering at MCS as well as an adjunct professor at the Polish Academy of Sciences. He is renowned for developing atom transfer radical polymerization (ATRP). This controlled, living polymerization allows precise, nanoscale control over the formation of polymers. ATRP is a significant advance over conventional methods to make polymers, in which it's difficult to control the composition and architecture of a resulting compound. ATRP can be applied to essentially all monomers polymerized by radical means and can be carried out in neat monomers and in water.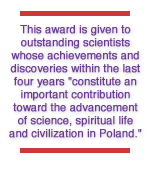 In a list of the top 100 scientists compiled in 2004 by Essential Science Indicators, Matyjaszewski ranked 6th among all fields of chemistry. Matyjaszewski's groundbreaking paper on ATRP, first published in 1995, has spawned considerable industrial and academic research in this field of controlled polymerization and has been cited more than 1,000 times. Much of the research progress and commercial success related to ATRP is due to two research consortia he has initiated and led. A recipient of numerous awards, Matyjaszewski most recently received the 2004 Cooperative Research Award in Polymer Science and Engineering from the American Chemical Society.
MCS maintains innovative research and educational programs in biological sciences, chemistry, physics, mathematics and several interdisciplinary areas. For more information, visit http://www.cmu.edu/mcs. For more on Matyjaszewski's research, visit http://www.chem.cmu.edu/groups/maty/.


Lauren Ward