Faculty panel to judge team and individual research projects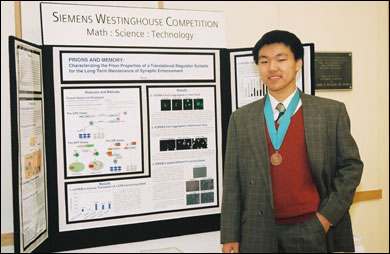 Yin Li was the Siemens Westinghouse Competition national winner last year. He advanced to the finals by winning the Middle States Regional event held at Carnegie Mellon.
Carnegie Mellon will host 13 of the region's most promising young scientists this weekend (Nov. 19-20) in the Middle States Regional Finals of the Siemens Westinghouse Competition in Math, Science & Technology. One team of high school students from Pittsburgh—David Chancellor from The Winchester Thurston School and Sara Bacvinskas from John A. Brashear High School—and five individuals and three teams from New York will present their original research projects to a panel of Carnegie Mellon faculty judges during the two-day event.
Chancellor and Bacvinskas' project was inspired by the Hepatitis A outbreak in Western Pennsylvania in November 2003 that was caused by contaminated green onions that were shipped to the Chi-Chi's Restaurants from a farm in Mexico. Their research revealed that contaminated dirt was trapped inside the onion, permanently imbedding the virus inside the onion's cells. Their work suggests that merely cleaning raw onions does not make them safe and that the agriculture and food industries must be diligent during growth, transport and handling of raw vegetables.
Six regional competitions are being held throughout the country. One individual and one team will be selected at each regional final to advance to the national finals in Washington, D.C., where students will compete for a top individual and team scholarship prize of $100,000.
For the past two years Carnegie Mellon has hosted the regional final that has produced the national winners. Last year Yin Li, a student from Stuyvesant High School in New York, won the $100,000 individual prize, and the top team from the regional final won the $50,000 second prize. In 2002-03 Juliet Girard and Roshan Prahbu from William Dickenson High School in New Jersey won the $100,000 top team prize.
More than 1,200 students and teams submitted research reports this year. From this initial group of entries, scientists from leading universities and national laboratories selected a group of regional finalists. At the regional competition, participants will display a poster of their project and give a 12-minute oral presentation, followed by an intensive question and answer period. This year's presentations include the creation of palladium nanoparticles, a simulation of the immune system's attack on pancreatic cancer cells, and a study of metabolite-sensing messenger RNA.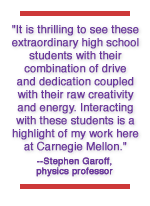 The student projects will be judged by a distinguished panel of Carnegie Mellon faculty including, Bruce Armitage from the Department of Chemistry, Stephen Garoff from the Department of Physics, Bill Hrusa from the Department of Mathematical Sciences, Peter Lee from the School of Computer Science, Marek Skowronski from the Department of Materials Science and Engineering, and Javier Lopez, Brooke McCartney and John Woolford from the Department of Biological Sciences.
"It is thrilling to see these extraordinary high school students with their combination of drive and dedication coupled with their raw creativity and energy. Interacting with these students is a highlight of my work here at Carnegie Mellon," said Garoff, a professor of physics who has judged the competition for a number of years.
In addition to the Pittsburgh student team of Chancellor and Bacvinskas, the field includes:
Ling Pan, The Brearley School, New York, N.Y.;
Samir Zaidi, Hackley School, Tarrytown, N.Y.;
Olga Pikovskaya, Genna Ablleman and Maya Barsky, Midwood High School at Brooklyn College, Brooklyn, N.Y.;
Debbie Chiang, Garden City High School, Garden City, N.Y.;
Aditi Ramakrishnan, Ward Melville High School, East Setauket, N.Y.;
Yisrael Herzberg and Yonatan Schwab, Rambam Mesivta High School, Lawrence, N.Y.;
Anirudh Ramesh, Sachem High School East, Farmingville, N.Y.; and
Yaagnik Kosuri, Herricks High School, New Hyde Park, N.Y.
The individual regional winner will receive an award of $3,000. Members of the winning regional team will share a prize of $6,000, and all regional runners-up will be awarded a $1,000 scholarship.
The Siemens Foundation was established in 1998 and is dedicated to providing scholarships and increasing access to higher education for gifted students in science, mathematics and technology-related disciplines. The Siemens Foundation recognizes and supports America's most promising science and mathematic students and teachers, as well as schools that are doing the most to promote education in the core sciences. The foundation's mission is based on the culture of innovation, research and educational support that is the hallmark of Siemens' U.S. operating companies and its parent company, Siemens AG.


Amy Pavlak