The Steinbrenner Institute Supports Carnegie Mellon's University-wide Focus on the Environment
"Buy real estate. They ain't makin' any more of it," Depression-era comedian Will Rogers used to say. It's no joke anymore. This is the century when mankind finally must face the reality that our known resources are indeed finite.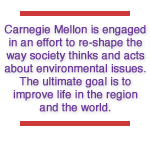 And we'll have to figure out what to do about it.
Carnegie Mellon finds itself in a unique position to address the problem. It's led by University President Jared L. Cohon who is renowned for his work in environmental water systems. And it has strengths in areas across campus that can have a direct impact on the environment.
From chemistry patents that help to eliminate toxins in waterways to developing clean and efficient alternative fuels for energy and transportation, green building designs to improve health and productivity, and new courses for students in energy and the environment, Carnegie Mellon is engaged in an effort to re-shape the way society thinks and acts about environmental issues. The ultimate goal is to improve life in the region and the world.
All seven colleges and schools are involved as well as 10 research centers—from the Electricity Industry Center to the STUDIO for Creative Inquiry. It's a university-wide effort to achieve worldwide results. It's one to which the university is committed. And it's one Trustee W. Lowell Steinbrenner feels strongly about.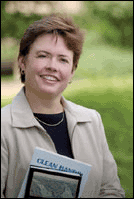 Deborah Lange

So much so, that he and his wife, Jan, pledged $4 million to establish the Steinbrenner Institute for Environmental Education and Research. The center's initial focus is on two critical themes: sustainability in energy and the environment; and urban infrastructure, the systems that make cities work.

Led by Executive Director Deborah Lange and Director Chris Hendrickson, head of the Civil and Environmental Engineering Department, the Steinbrenner Institute is charged with coordinating and enhancing the impact of environmental research and education campus-wide. The institute also grants seed funding each winter to support and encourage new initiatives.

"We're kind of a one-stop shop," Hendrickson says. "Environmental work spreads across all the different colleges and schools, and it's a piece of a number of different projects." He said, "now there's one environmental institute" to pull it all together.

"The idea is for us to be a communications thread," says Lange, "because right now there's a bunch of silos working independently. We're interested in finding synergies that can help leverage their work.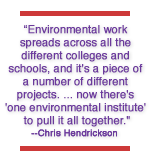 "We're also interested in how we can help them find funds from non-traditional resources [like the Environmental Protection Agency, National Science Foundation and Department of Energy]."
Last year the Steinbrenner Institute granted $70,000 in seed funds for several projects. Among them were awards for curriculum development in the School of Architecture for a new course in urban systems and infrastructures; expanded work in the Civil and Environmental Engineering Department to explore the use of cellulosic ethanol as an alternative fuel; environmental programming for residents and visitors of New House, Carnegie Mellon's new "green" residence hall; and a student experiment comparing two different types of green roofs that act as energy insulators.
A Steinbrenner award was also issued to enhance a Luce Foundation grant for the "greening" of early undergraduate education for freshmen and sophomores. Six classes in the School of Architecture, Art and Design, the English Department, the Civil and Environmental Engineering Department and an interdisciplinary course called "Mapping the Terrain: Environmental Thinking and Art Practice" aim to educate students about environmental issues and practices.
"It's Lowell's [Steinbrenner] vision that every student who comes out of Carnegie Mellon is an environmental steward," Lange says. "That's one of our missions, to change the way the world thinks about the environment. We have the capability to make a real contribution."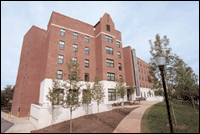 "New House" has earned recognition by the U.S. Green Building Council, making it the nation's healthiest, most energy-efficient residence for college and university students.

More than 600 environmental journalists recently got a first-hand look at how "green" the university is, when Carnegie Mellon hosted the 14th annual Society of Environmental Journalists Conference in late October. More faculty participated in the conference than ever before in its 14-year history. Speaking at workshops, seminars and panel discussions on air and water quality, green design, green chemistry, brownfield development and other environmental issues were President Cohon, Lange, Hendrickson, Granger Morgan, Lester Lave,, Terry Collins, Joel Tarr, David Dzombak, Peter Adams, Vivian Loftness, Metin Sitti, Greg Lowry, Tim Collins and William "Red" Whittaker. Environmentalist and alumnus Ted Danson (A'72) was also a featured participant in the opening panel discussion on how Hollywood influences environmental policy and policymakers.

Lange is coordinating The Business of Brownfields Conference, Nov. 8-9, at the Sheraton Station Square. More than 300 participants are expected to attend the conference, which will discuss the development of vacant industrial sites.

For a look at Carnegie Mellon's top 10 environmental initiatives visit http://www.carnegiemellontoday.com/article.asp?Aid=128



Bruce Gerson