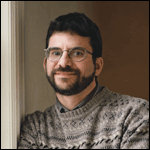 Saturday Light Brigade host
Larry Berger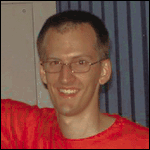 Fifth-Year Scholar
Andrew Widdowson

The Saturday Light Brigade (SLB), Pittsburgh's award-winning live public radio program featuring acoustic music and interactive family fun on Carnegie Mellon's student radio station, WRCT 88.3 FM, has announced a partnership with Carnegie Mellon's Fifth Year Scholars Program to help create its new broadcast studio and develop for-credit work experiences for undergraduates.

Carnegie Mellon fifth-year scholar Andrew Widdowson, who earned his bachelor's degree in computer science this past May, will use his skills in electronics, computer science, production and music to assist the radio program in the design and construction of its new studio, which will open on Nov. 6, 2004. He will also work to expand the Carnegie Mellon/SLB relationship by creating for-credit work experience opportunities for future undergraduates, work-study positions, and volunteer opportunities emphasizing Carnegie Mellon's interdisciplinary approach to education. Thomas Sullivan, a lecturer in the Electrical and Computer Engineering Department, is Widdowson's faculty advisor.

Carnegie Mellon's prestigious Fifth Year Scholars program offers a small number of exceptional students the opportunity to remain on campus for one full year after graduation to pursue personal and professional development opportunities through academic course work, independent study and community involvement. The selection process for fifth year scholars, who receive free tuition and a stipend for one full academic year, is based on academic performance and campus involvement as an undergraduate, and the development of a community impact proposal.

"Carnegie Mellon University is pleased to partner with a family education and community oriented program like SLB to create opportunities for interdisciplinary learning, community service and growth for our students," says Jennifer Church, associate dean of Student Affairs at Carnegie Mellon. "Andrew's achievements in and out of the classroom make him highly deserving of this unique scholarship."

"This internship is a wonderful opportunity for SLB to give back to the community by offering real world experience and professional development to a worthy Carnegie Mellon student," says Larry Berger, host of The Saturday Light Brigade and a Carnegie Mellon alumnus. "Andrew is incredibly bright and talented. We look forward to benefiting from his insights, energy and expertise."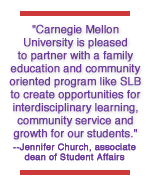 SLB and Carnegie Mellon enjoy a long and rich history of working together, dating back to Berger's 1983 graduation from the school. The relationship has continued over the last 20 years, and deepened significantly when SLB began broadcasting from the university's student operated radio station in November 2003.
A Saturday morning tradition in Pittsburgh for nearly 30 years, SLB is one of the longest-running public radio programs in the United States. The show broadcasts live from 6 a.m. to 12:00 p.m. Saturdays at the WRCT studio on the Carnegie Mellon campus.
SLB Radio Productions, Inc. is a 501(c)(3) not-for-profit corporation steered by a Board of Directors and Community Advisory Board. SLB is a member of the National Federation of Community Broadcasters and Association of Independents in Radio.
Since its inaugural broadcast in 1978, SLB has been honored with 10 national, state and local awards for its unique mix of entertainment. The show includes acoustic music, puzzles, games, live performers and special guests. The program is available at no charge to qualified non-commercial and commercial radio stations for broadcast in stand-alone segments ranging from one to six hours (with 6 minutes per hour available for local content, including underwriting and sponsorship).
For more information, including on-demand broadcasts, visit http://www.slbradio.com