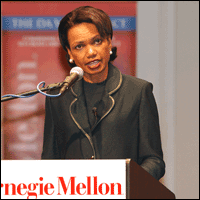 Condoleezza Rice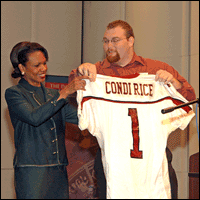 Ryan Plusch presented Rice with a personalized jersey from the Carnegie Mellon football team.

Condoleezza Rice, who was appointed Secretary of State by President George W. Bush on Nov. 16, 2004, told a group of students and faculty at Carnegie Mellon that the complex problems facing the United States in a post-9/11 world will require the kind of interdisciplinary approach the university is known for.

Rice, the former National Security Advisor to President Bush, said that she and other top government officials were seeking ways to encourage interdisciplinary collaboration and increase funding for multi-disciplinary research.

"Problems don't come in neat disciplinary packages," Rice said in the College of Fine Arts' Kresge Theater on Oct. 21, 2004.

Rice is a former political science professor and provost at Stanford University. She spoke at Carnegie Mellon because one of her former students is Kiron Skinner, an assistant professor of history and political science at Carnegie Mellon and director of the university's nascent International Relations Program (IR). IR students made up the bulk of the audience at her talk.

"Dr. Rice's talk was a unique opportunity for Carnegie Mellon students because they were able to engage one of the most influential women in the world in a discussion about ways to resolve complex international challenges," Skinner said.

IR was launched in 2000 as a collaboration of the departments of History, Modern Languages and Social and Decision Sciences in H&SS. Currently, 50 students are enrolled as majors and eight as minors. The program, available only as a secondary major, has drawn students from several colleges and departments.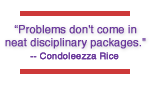 Carnegie Mellon President Jared L. Cohon, in his introduction to Rice's talk, said IR is one of several international initiatives the university has launched in recent years.
"Dr. Rice, I believe, is a model for us. Her academic training has prepared her well for making an impact in public policy and international affairs," Cohon said.
Rice said that despite reports of anti-Americanism abroad, people from all corners of the globe continue to come to the United States to seek educational and economic opportunities. Thus, American universities and other institutions need to establish global connections, she said.
"The world is so much upon us. We are such a part of it. We have such an influence on it as the United States of America," Rice said. "I hope that each and every one of you will take it as part of your own personal mission to understand other cultures."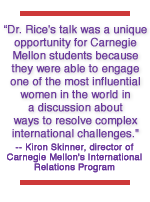 Rice avoided politics in her talk, but she laid out the Bush administration's long-term strategy for eradicating terrorism and where the Iraq war fits into that strategy. In the wake of the 9/11 attacks, the United States has abandoned a national security framework based on global stability in favor of a values-based foreign policy that views freedom and democracy as antidotes to terrorism, Rice said.
Rice urged her audience, as students of international relations, to judge current events in the context of history. She recalled standing in a public square in Poland in 1991, while an advisor to President George H.W. Bush, watching thousands of Poles waving American flags in praise of their new-found freedom.
"I recognize now as a student of history that I was actually harvesting good decisions made in 1946, 1947 and 1948, when things looked pretty bleak," Rice said.

Jonathan Potts