An Afternoon With Michael Moore Rescheduled for Oct. 26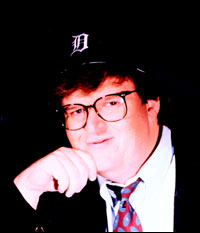 Michael Moore

Michael Moore, the director of controversial films "Bowling for Columbine" and "Fahrenheit 9/11" and New York Times best-selling author of "Dude, Where's My Country?" will discuss youth votership, today's political climate and other current issues at Carnegie Mellon at 4:30 p.m., Tuesday, Oct. 26, in the University Center's Wiegand Gymnasium. Lines will begin forming at the gym no earlier than 4 p.m.

No bags will be allowed in the gym and no flash photography will be permitted after the first five minutes.

His lecture will also be broadcast on cmu-TV, Channel 17.

Moore was scheduled to appear at Carnegie Mellon on Oct. 6, but the lecture was postponed due to illness.

Free tickets for faculty, staff and students with valid Carnegie Mellon IDs became available at the University Center Information Desk on Monday, Oct. 18. Remaining tickets will be available for the general public at the University Center Information Desk beginning at noon on Thursday, Oct. 21. Individual tickets will be distributed on a first-come, first-served basis to those with valid Carnegie Mellon IDs.

Moore's appearance is sponsored by AB Lectures and the students' activities fee.