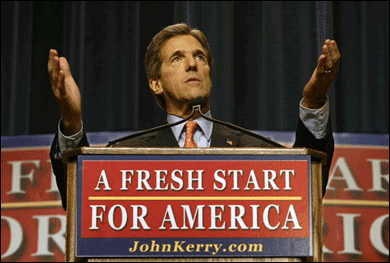 Democratic Presidential Candidate John Kerry will host a rally at Carnegie Mellon beginning at 3 p.m., today, Wednesday, Oct. 20 on the Hamerschlag Mall, between Hamerschlag Hall and the College of Fine Arts. The rally will include a concert by Jon Bon Jovi, remarks from local Democratic officials and local celebrities, including former Pittsburgh Steeler Franco Harris, and guest appearances by Liz Berlin and Jen Wertz of the band Rusted Root, and actor Ted Danson. Danson, a 1972 graduate of Carnegie Mellon, is in town to participate in the Society of Environmental Journalists Conference (http://www.sej.org) being held on campus through the weekend. Kerry is expected to address the crowd at approximately 6 p.m.
For complimentary tickets to the rally, go to http://www.johnkerry.com/pittsburgh/
Students can also receive complimentary tickets at the University Center Information Desk with a valid Carnegie Mellon ID. Rally sponsors include Carnegie Mellon's Activities Board, College Democrats and Student Government.
The rally will be broadcast live on the Web, from 3 - 7 p.m., at http://esm.cs.cmu.edu. The Internet broadcast is brought to you by the Carnegie Mellon End system Multicast (ESM) team in conjunction with cmuTV.
Kerry's appearance at Carnegie Mellon is one of several recent visits to the university by political and government officials.
In late September, Democratic Vice Presidential Candidate John Edwards hosted a town hall meeting at Carnegie Mellon. Earlier this month Secretary of Energy Spencer Abraham visited the university to announce several grants, including a two-year, $1.4 million award for the future development of Explorer, a wireless, snake-like, crawling robot developed at Carnegie Mellon for the inspection of active, underground gas mains. Explorer was created by Hagen Schempf, principal systems scientist in Carnegie Mellon's Robotics Institute.
Traffic and Parking Restrictions
There will be no parking on Frew Street from 6 a.m. to 8 p.m., on Wednesday, Oct. 20. Violators will be towed.
Frew Street will be closed to all vehicular traffic from 4:30 to 7:30 p.m.
Half of the CFA/Area #1 parking lot (25 parking spaces) will be closed to all permit holders from 6 a.m. to 8 p.m., on Wednesday, Oct. 20. Area #1 permit holders are asked to park elsewhere. Contact Parking Services for alternate locations (412-268-2052).

Bruce Gerson