Casto Family Celebrates Hero Fund Centennial at Homecoming
Memorabilia Donated to University Archives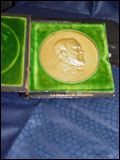 The Carnegie Hero Fund Gold Medal awarded to Captain Mark Casto.



On Jan., 14, 1906, Captain Mark Casto led the rescue of 54 passengers and crew from the S.S. Cherokee when the 2,556-ton stream freighter went aground on the Brigantine shoals near Atlantic City, N.J., and began to sink. The commercial fisherman and his six-man volunteer crew made more than a dozen trips by lifeboat in 25-foot seas to transport passengers and crew from the stricken vessel to his 10-ton fishing schooner. When the schooner's engine became disabled, Casto brought everyone safely to shore under sail.

On Oct. 15, 2004, 28 members of the Casto Family will gather at Carnegie Mellon to honor the captain for his courage and bravery as part of the Carnegie Hero Fund Commission Centennial.

The Carnegie Hero Fund Commission is a far-reaching philanthropy endowed by Andrew Carnegie in 1904 to honor individuals for acts of heroism. The commission awarded Casto the Carnegie Hero Fund Gold Medal and a Hero Fund Scholarship to Carnegie Tech that was used by his son. Family members have recently donated Casto's Hero Fund memorabilia to Carnegie Mellon University Archives. These materials are the centerpiece of a special exhibit prepared for Homecoming that will also honor the many Hero Fund Scholarship recipients who attended Carnegie Tech at the beginning of the 20th century.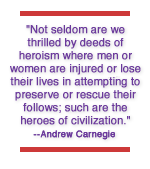 The Pittsburgh-based fund has recognized 8,849 heroes during the past 100 years. In addition to medals, the Hero Fund has awarded nearly $27 million in awards, grants, tuition and other assistance. With notable exceptions, such as heroes of the crash of Air Florida Flight 90 in the Potomac River and of 9/11, the commission often recognizes smaller localized acts of heroism that may not capture national attention.
"We always find heroes," said Mark Laskow, president of the Carnegie Hero Fund Commission. "There are always heroes in our midst, and we find them when we need them."
The Carnegie Hero Fund Commission was a favorite of Andrew Carnegie's. "We live in a heroic age," he wrote. "Not seldom are we thrilled by deeds of heroism where men or women are injured or lose their lives in attempting to preserve or rescue their fellows; such are the heroes of civilization."
Events and displays marking the 100th anniversary of the Carnegie Hero Fund Commission include:
October 15 through November 30: University Archives exhibit, "Captain Mark Casto and Carnegie Fund Heroes, 1904-2004," Hunt Library, first floor.
October 16: Historian David McCullough will speak at the Carnegie Music Hall in Oakland, 5:30 p.m. Tickets ($17.50) are available at 412-456-6666 or at http://www.pgharts.com.
Carnegie Museum of Natural History: International display of Hero Fund medals. Tuesday through Saturday, 10 a.m.-5 p.m., through October. Admission free for members; $10 adults; $7 senior citizens; $6 full-time student with valid ID.
The History Center: Carnegie Hero Fund display in "Points of Time" exhibit, 2nd floor. Daily, 10 a.m.-5 p.m. Admission: $6 adults; $4.50 students with valid ID and senior citizens.
October 18, 2004 through March 5, 2005: "A Century of Heroes: Daily radio stories about everyday courage and 100 ordinary people doing extraordinary things." Monday through Friday, at 12:59 p.m. and 6:59 p.m., WDUQ 90.5 FM (audio archive at www.wduq.org).
Cindy Carroll