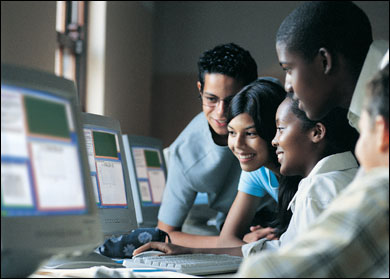 Seven high school and college-level courses will be used as a basis for the new center's research. The PSLC will invite schools in the Pittsburgh area and across the country to participate as "research schools."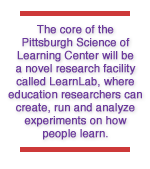 The National Science Foundation has awarded Carnegie Mellon University and the University of Pittsburgh a five-year, $25 million grant to establish the Pittsburgh Science of Learning Center (PSLC), which will sponsor rigorous research into how people learn and, based on what they find, develop technologies and approaches to teaching that will foster consistently high achievement in the nation's classrooms.

The core of the PSLC will be a novel research facility, called LearnLab, where education researchers can create, run and analyze experiments on how people learn. LearnLab will address what has long been a dilemma for education researchers: Experiments conducted in the artificial confines of the laboratory produce results and innovations that are not broadly transferable to schools, while studies conducted in classrooms have tended to be less rigorously controlled and thus do not provide sufficiently trustworthy results that can be used by others.

Thus, education research has lacked the kind of rigor that can be found, for example, in medical research, a problem federal policymakers are eager to correct. Under the federal No Child Left Behind Act, schools must demonstrate yearly progress through standardized tests, requiring teachers and school administrators to make more data-driven decisions.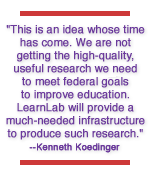 The codirectors of the PSLC are Kenneth R. Koedinger, associate professor of human-computer interaction and psychology at Carnegie Mellon, and Pitt Computer Science Professor Kurt VanLehn, senior scientist in Pitt's Learning Research and Development Center, which for 40 years has been a national leader in learning and instructional science.
"This is an idea whose time has come," Koedinger said. "We are not getting the high-quality, useful research we need to meet federal goals to improve education. LearnLab will provide a much-needed infrastructure to produce such research."
LearnLab scientists will initially use seven high school and college-level courses as a basis for their research—two high school mathematics courses; two college science courses; and three college language courses, including Chinese, French and English as a second language. The PSLC will invite schools in the Pittsburgh area and across the country to participate as "research schools" and serve much as research hospitals do for medical research.
LearnLab, functioning in conjunction with the schools, will enable learning scientists to conduct research that is as rigorous as traditional laboratory studies and test their results in real classroom settings to improve student achievement. LearnLab will build an infrastructure for conducting school-based studies by establishing streamlined procedures, troubleshooting common problems and creating methods for researchers without computer programming experience to employ computer learning technologies. In addition to being a center for research in education, LearnLab also will be a repository for education data.
LearnLab draws upon the combined strengths of Carnegie Mellon and the University of Pittsburgh in cognitive and developmental psychology, human-computer interaction, and intelligent tutoring systems, matching learning and language technologies. Researchers at Carnegie Mellon, for example, developed the popular Cognitive Tutor®, a computer-based tutoring program that includes a comprehensive secondary mathematics curriculum that has been commended by the U.S. Department of Education and is in use in 1,700 schools nationwide.
"The key idea is getting students to do as many of their learning activities online as possible, and the key technology for that is intelligent tutoring systems," VanLehn said. "Pittsburgh is the acknowledged world leader in developing such systems."
The PSLC is one of three learning centers that the NSF is funding at this time. The others will be housed at Boston University and jointly at the University of Washington and Stanford University.
"The Science of Learning Centers will provide the means and impetus for large-scale collaborations needed to push the frontiers of interdisciplinary science and for smaller-scale innovations and partnership-making," said Wanda Ward, acting assistant director of the NSF's Directorate for Social, Behavioral, and Economic Sciences. "These kinds of investments are essential for a fuller understanding of learning."

Jonathan Potts and Anne Watzman (Carnegie Mellon)
Chris Zurawsky and Patricia Lomando White (University of Pittsburgh)