Michael Moore Speaks on Campus Oct. 6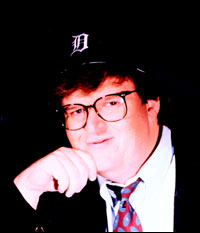 Michael Moore

Michael Moore, director of the controversial films "Bowling for Columbine" and "Fahrenheit 9/11" and New York Times best-selling author of "Dude, Where's My Country?" will discuss youth votership, today's political climate and other current issues at Carnegie Mellon on Wednesday, Oct. 6.

His talk will begin at 4:30 p.m., outdoors on the Hamerschlag Mall. The rain site is the Carnegie Music Hall, 4400 Forbes Avenue. Tickets will be required if the talk is moved to the rain location. Tickets are available at the University Center Information Desk on a first-come, first-served basis. One ticket will be issued with a Carnegie Mellon ID.

Moore's lecture is part of his 20-state, 60-city "Slacker Uprising Tour," designed to encourage young people to vote in the November presidential election. His goal is to help set a modern-day turnout record by achieving a 56-percent participation rate in this year's election.

Moore's appearance is sponsored by AB Lectures and the student activities fee.