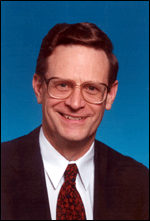 Granger Morgan heads the new Climate Decision Making Center.

Carnegie Mellon University's Department of Engineering and Public Policy will receive $6.9 million over the next five years from the National Science Foundation to study climate-related decision making.

Most climate researchers promise to reduce uncertainty. Carnegie Mellon's new Climate Decision Making Center is different. It begins its work by acknowledging that many of the uncertainties about future climate, and the human actions that are changing climate, can not be resolved ahead of time. The center will develop methods to support decision makers in the face of this "irreducible uncertainty."

"There is virtually universal agreement among the world's scientists that climate will change because of carbon dioxide that is released when we burn coal, oil and gas, but many of the details of the changes remain uncertain," said Granger Morgan, head of Carnegie Mellon's Department of Engineering and Public Policy who will direct the new Climate Decision Making Center. Morgan says that the new center will try to get past the arguments about those details to examine how private and public decision makers can begin to prepare in the face of all the uncertainties.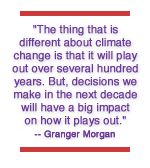 "When you think about it, situations involving high uncertainty are pretty common," Morgan said. "Personal decisions to go to college, take a job, get married and have a family are always made in the face of great uncertainty about the future. The same is true for public decisions. The thing that is different about climate change is that it will play out over several hundred years. But, decisions we make in the next decade will have a big impact on how it plays out," Morgan said.
The new center will focus on helping people and organizations use available but uncertain information to improve their decisions.
"We will address a variety of climate-related decision problems faced by insurance managers, managers of forests and fisheries, people who live in villages of the higher Arctic (where climate change will come soonest and be largest) and electric power executives who must decide what kinds of power plants to build," Morgan said.
In addition to researchers at Carnegie Mellon, the new Climate Decision Making Center will involve leading researchers at Stanford University, the University of California at Berkeley, the University of British Columbia, the University of Calgary, the German-based Potsdam Institute for Climate Impact Research and several other institutions. In addition to research, the interdisciplinary center will give faculty and students the opportunity to participate in a variety of outreach and decision-making projects.

Chriss Swaney