Carnegie Mellon celebrated the spirit of teamwork and dedication of its staff members at the 10th annual Andy Awards celebration on Monday, Sept. 27, in McConomy Auditorium. This year's awards, which recognize individuals or teams whose dedication and performance have had a significant impact on the university, were presented to Roy Beebe, Dedication; Michelle Wirtz, Enthusiasm; Darlene Covington-Davis, Culture; Rita Motor, Citizenship; and Larry Powell, Innovation.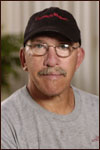 Roy Beebe—Dedication
The Andy Award for Dedication honors employees who take great pride in their work, who unfailingly serve their customers through their commitment to getting the job done. Often they are the university's unsung heroes—the ones who do their work so well for so long that it just goes overlooked.
Roy Beebe, a gardener in the Facilities Management Services Gardeners group, exemplifies this dedication to his craft. "If you never saw him in action, the pride in and commitment to his work would still be obvious enough—it shines through in every carefully trimmed branch, every lovingly planted flower and every closely trimmed blade of grass that surrounds our building," one nomination letter said. "Roy has done such an excellent job caretaking our shared grounds for so long that perhaps we have become accustomed to it and give it no thought—much like someone living in luxury for so long that they can no longer appreciate how special it is."
Another supporter wrote, "Roy's work could easily be overlooked by the occupants of Baker and Porter halls, too busy to 'stop and smell the roses.' But Roy himself is not so easily overlooked. He knows most of us by name and always stops what he's doing to say hello...Roy not only has a heart for the plants and flowers he tends, but also for the people he meets. This kind of caring and dedication is rare."
Michelle Wirtz—Enthusiasm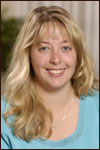 Winners of the Andy Award for Enthusiasm bring a positive and productive perspective to work every day. They are motivational team players who inspire others with their actions, attitude and personality.
This year's winner, Michelle Wirtz, "provides superlative service with an infectiously positive attitude," according to one nomination letter. As administrative coordinator for the Master of Public Management and Master of Educational Technology Management programs at the Heinz School, Wirtz "responds with a smile and a can-do attitude" to any request. "Students describe her as 'an exceptionally helpful person who is always friendly and assists you immediately."
"The place she shines so brightly is in her interactions with others," another supporter wrote. "Her cheerful nature engages everyone with whom she talks...She takes on each of her tasks with great humor and a positive outlook. Her genuine fondness for our students, her delight in her colleagues and her devotion to her job make her truly outstanding."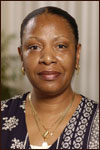 Darlene Covington-Davis—Culture
The Andy Award for Culture rewards staff members who foster a balanced and inclusive workplace culture, who create a positive and supportive work environment related to diversity, professional development and/or work/life balance. They bring out the best in their fellow employees and recognize the potential in everyone.
Darlene Covington-Davis, graduate program coordinator in the School of Architecture, "has been our most effective tool in helping all students in the graduate programs—regardless of gender, ethnic or national background—assimilate into our culture here. She is a mentor, guide and role model for our students and faculty alike," one nominator noted. "She performs this task compassionately, with an even hand. Her presence is a key to the success of our programs."
"During the summers, the architecture department conducts a minority summer internship program and for six years Darlene has served as the program coordinator," another nominator notes. "Her attention to details and minutia has allowed the program to grow to the point that it has turned into a positive and productive recruitment too. The success of this summer internship program can be directly pointed at Darlene."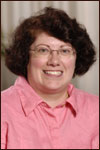 Rita M. Motor—Citizenship
Employees who win the Andy Award for University Citizenship make important contributions that benefit the entire Carnegie Mellon community. They foster collaboration, cooperation and communication among many university organizations and commit their time and energy to working with others to improve and enhance the Carnegie Mellon community.
Rita Motor, principal software engineer for Administrative Computing and Information Services, fosters that collaboration and cooperation as chair of the university's Take Our Daughters and Sons to Work Day. "Rita's work as chair of Carnegie Mellon's Take Our Daughters and Sons to Work Day is a prime example of citizenship that benefits not only the university community, but bespeaks well of Carnegie Mellon to the community at large," one supporter wrote. "Her commitment to the mission and spirit of the event has encouraged increased involvement year after year, enhanced the experience for numerous children and fostered a greater sense of pride and responsibility in our work among faculty and staff alike."
"Rita's willingness and open desire to maintain and grow this event has preserved a critical path for the university to participate as one community in one event for a common, extremely worthwhile and rewarding purpose. She has allowed us time and again to positively touch the future of our children, create a common effort to achieve a common goal and further promote the quality of university life."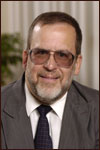 Larry Powell—Innovation
The Andy Award for Innovation recognizes staff members who have developed new approaches, methods and systems to improve organizational effectiveness. They demonstrate imagination and creativity in finding solutions to problems or fostering change that has benefited the university.
Manager of Disability Resources Larry Powell has "quietly worked to make this university accessible to every member of the Carnegie Mellon community" for the last four years. "Larry has engaged each individual who self-identified as having a disability in the development of individual education and/or work accommodation plans," one nominator wrote. "It is not unusual to see Larry working late into the night with these individuals to make sure that they can access our university's programs and services."
"Larry is passionate about finding solutions that allow students with special needs to achieve in the classroom and participate in the university experience outside the classroom," another support wrote. "He is a creative problem-solver who does not give up until he finds a way to remove or lower a barrier that is interfering with a student's performance."
In closing the awards ceremony, President Jared L. Cohon congratulated the winners and lauded the accomplishments of all staff members. "You really are a wonderful group of people. You really do mean everything to this university," he said. "And I thank you."