John Edwards Hosts Town Hall Meeting Tuesday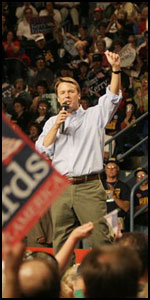 Democratic Vice Presidential Candidate John Edwards will host a town hall meeting at Carnegie Mellon University from 11 a.m. to noon, Tuesday, Sept. 28, in the University Center's Wiegand Gymnasium. The focus of the meeting will be healthcare.

The town hall meeting will be simulcast in McConomy Auditorium.

Free tickets to attend the event may be obtained from the Kerry-Edwards Headquarters (412-434-0524) at 225 Ross Street, downtown. Students, faculty and staff with a Carnegie Mellon ID may attend the simulcast in McConomy on a first-come, first-served basis.