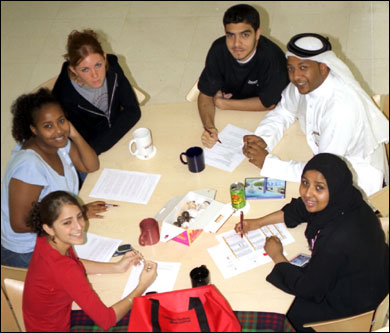 During their orientation, students on the Qatar campus took an active role in developing their government and looked at ways to connect with their peers in Pittsburgh.
For the first time in its history, Carnegie Mellon University's orientation activities for first-year students extended across an ocean and seven time zones. While 1,394 students moved into their residence halls and began classes in Pittsburgh, 44 of their peers were doing the same thing at Carnegie Mellon in Qatar.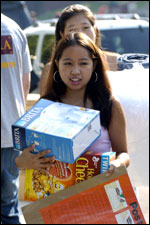 The 1,394 members of the Class of 2008 represent 32 foreign countries, 47 states, the District of Columbia and Puerto Rico.

This historic inauguration underscored perfectly President Jared L. Cohon's annual speech to the Class of 2008 and their parents, in which he promised, live and via tape to Qatar, a "wonderfully diverse class."

Perhaps it's never been more true. On the Pittsburgh campus, the Class of 2008 represents 32 foreign countries, 47 states, the District of Columbia and Puerto Rico, with a solid mix coming from each region of the country. Sixty-three percent of the students are male and 37 percent are female.

The male-to-female ratio in Pittsburgh is in sharp contrast to that of the Qatar campus, where 73 percent of first-year students are women. And while the majority of incoming students are from Qatar, just 60 percent are Qatari nationals. The rest hail from throughout the region.

President Cohon and Charles Thorpe, dean of Carnegie Mellon in Qatar, both echoed the idea that this diversity will enrich the students' education. In his address, Cohon highlighted the five characteristics that make Carnegie Mellon a unique, world-class university: its focus on problem solving; collaboration and teamwork; its innovative culture and desire to continuously change; its combination of an arts conservatory and research university; and its ability to work hard and play hard.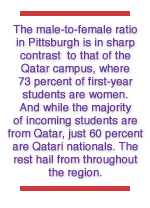 Cohon advised students to "take charge of your time at Carnegie Mellon. If you take charge and go after things, you'll be amazed at what you can accomplish." He also urged students to explore the world around them and be adventurous, taking one class a year that might raise parents' eyebrows, but will help them discover their interests.
While move-in day on the Pittsburgh campus can often be hectic, Dan Martin, a parent and faculty member at Carnegie Mellon, enjoyed the experience.
"It could not have been a better experience for us," said Martin, director of the Master of Arts Management Program, whose son is a freshman this year. "Everyone was tremendously helpful. . . . What was especially good, in my opinion, was the proactive approach so many people took; they seemed to seek out opportunities to help, to answer questions, to provide support. . . . I was very proud to be part of the Carnegie Mellon community today," he said.
Thorpe, in a convocation that closed the student orientation at Carnegie Mellon in Qatar, quoted mathematician Alfred North Whitehead, who wrote, "Fools act on imagination without knowledge; pedants act on knowledge without imagination. The task of a university is to weld together imagination and experience."
The convocation featured two special guests from Pittsburgh. Lifetime trustee Lucian Caste attended the celebration while in Doha to advise on the university's architectural plans for a permanent campus building, slated to open in 2006. Caste says he is extremely interested in fostering a sense of shared community among all the Carnegie Mellon campuses—Pittsburgh, Doha, the West Coast and Athens, Greece.
To help create that tie between the Pittsburgh and Qatar campuses, Andrea Modeste, a civil and environmental engineering graduate student, presented the class of 2008 with its tile—a twin of the 2008 floor tile that tradition dictates be placed inside the front entrance of Baker Hall in Pittsburgh.
During the orientation, students took an active role in developing their student government, looked at health and wellness issues, and ways to connect with their peers in Pittsburgh through student publications like the Tartan and Carnegie PULSE.
Though traditions are difficult to predict, one that may have emerged on the Qatar campus involves students signing a Carnegie Mellon in Qatar banner. The signed piece will remain in the student lounge until it can be posted more permanently in Carnegie Mellon's new building.
Before closing his annual speech, Cohon reassured parents that their sons and daughters are well equipped to handle the next four years. "They're ready and they'll succeed here because you prepared them for it."

Susie Cribbs and Lisa Kirchner