Class of 2008 Comes to Campus
President Cohon calls first-years "wonderfully diverse"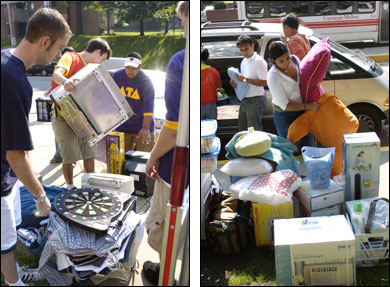 First-year students arrived on campus Tuesday, bringing with them all the essentials for a college dorm room—computers, fans, pillows and electronic dart boards. (Photos by Ken Andreyo)
Carnegie Mellon University welcomed the Class of 2008 to campus on Tuesday, Aug. 24, 2004. The 1,394 students represent 32 foreign countries, 47 states, the District of Columbia and Puerto Rico, with Alabama, Idaho and Kansas as the only states missing from the distribution. Sixty-three percent of the students are male and 37 percent are female. In his annual speech to the first-year students and their parents, President Jared L. Cohon called the Class of 2008, a "wonderfully diverse class. Your education and this university will be better because of it," he said.
More than half (51 percent) of incoming first-year students hail from the Mid-Atlantic region and 19 percent are from Pennsylvania alone. Ten percent come from the West, 8 percent from both the Northeastern and Southern region, 4 percent from the Southwest and 3 percent from the Mid-West.
In his address, Cohon also highlighted the five characteristics that make Carnegie Mellon a unique, world-class university: its focus on problem solving; collaboration and teamwork; innovation and desire to continuously change; combination of arts conservatory and research university; and ability to work hard and play hard. Cohon advised students to "take charge of your time at Carnegie Mellon. If you take charge and go after things, you'll be amazed at what you can accomplish." He also urged students to explore the world around them and be adventurous, taking one class a year that might raise parents' eyebrows, but will help the students discover their interests.
Before closing, Cohon reassured parents that their sons and daughters are well equipped to handle the next four years. "They're ready and they'll succeed here because you prepared them for it."
Orientation for the Class of 2008 continues through Sunday, Aug. 29. Classes for the fall 2004 semester begin on Monday, Aug. 30.