Dena Haritos Tsamitis To Head Information Networking Institute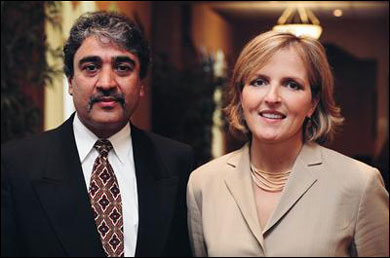 Dena Haritos Tsamitis (right) takes the reigns of a thriving INI from former head Pradeep Khosla (left).
Carnegie Mellon University has named Dena Haritos Tsamitis to head the Information Networking Institute (INI), a university-wide initiative founded in 1989 to offer professional graduate degree programs that combine technology, management and policy.
Since 2002, Tsamitis has served as the associate director of the institute, handling all the-day-to-day operations, including two highly competitive academic programs culminating in information networking (MSIN) and information security (MSISTM) graduate degrees. She also played a large role in creating the MSIN degree offered in Athens, Greece, in collaboration with Athens Information Technology.
Tsamitis, who grew up in a Greek-American household, said it was natural to work on the collaborative degree programs in Athens not just because of her Greek heritage but also because she spent several years living in Greece.
"This position is extremely important to Carnegie Mellon as the university works to educate the next generation of information technology leaders on its Pittsburgh campus and also other locations such as Athens, the West Coast campus and Japan," said Pradeep K. Khosla, dean of Carnegie Mellon's College of Engineering and former head of the INI.
"I am honored by this appointment," said Tsamitis. "Pradeep Khosla has handed me a thriving institute and I see my new position as an extension of the many exciting and innovative activities I've had the opportunity to be involved with through both the INI and CyLab," she said.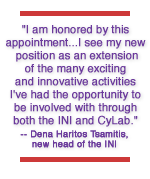 In addition to her role in the INI, Tsamitis was a part of the founding group of Carnegie Mellon's Cylab, a university-wide initiative focused on developing new technologies for measurable, available, secure, trustworthy, and sustainable computing and communications systems. Since October 2003, she has served as director of education, training and outreach for CyLab. She has been designing and developing education and awareness initiatives aimed at making 20,000 households in the Pittsburgh region "cyberaware" and ultimately reaching millions nationwide with new technology.
Tsamitis, an adjunct faculty member in the H. John Heinz III School of Public Policy and Management, also serves on the prominent Department of Homeland Security Task Force for Information Security Education and Awareness and the Washington, D.C.-based EDUCAUSE Security Education and Awareness Working Group.
Tsamitis began her university career in 2000 as an instructional technology design specialist with the Office of Technology for Education. She consulted on numerous projects involving the integration of technology in education, evaluation of online and distance-learning technologies, academic program evaluation and curriculum design. She also created and conducted workshops and seminars for faculty on the use of various technologies for teaching, including the deployment of the Blackboard course management system that revolutionized course delivery at Carnegie Mellon.
Prior to joining the university, Tsamitis was an Internet analyst for Eli Lilly & Co. in Indianapolis, Ind., where she designed and developed online educational materials for 30,000 users worldwide. Tsamitis designed the content architecture and interface of Lilly's award-winning Intranet, ELVIS (Eli Lilly Virtual Information Server), as well as its corporate Web site—the first pharmaceutical site on the Web.

Chriss Swaney