Takes leave of absence from Carnegie Mellon; Retires from NFL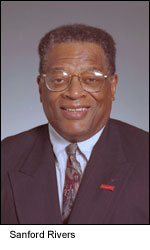 Assistant Vice President for Enrollment Sanford Rivers has been named by Pennsylvania Governor Ed Rendell to a two-year term on the state Gaming Control Board, a seven-member panel that will award gaming licenses and regulate the operation of 14 slot parlors in the state.
The Pennsylvania legislature recently approved a new gambling law, which paves the way for 61,000 slot machines in 14 establishments throughout the Commonwealth.
Rivers has taken a leave of absence from Carnegie Mellon to pay fulltime attention to his new position. He has also announced his retirement from the National Football League (NFL). Rivers has been a field official with the NFL for the past 15 years. As a head linesman he's been selected to work many playoff and conference championship games. He received the ultimate honor in 1999, when he was picked to officiate in Super Bowl XXXIII.
Rivers has been a member of the Carnegie Mellon community for 34 years. He joined the university in 1970 as a student recruiter and rose through the ranks to assistant and associate director of admissions before being named to his current position.
"Sanford Rivers' name at Carnegie Mellon is synonymous with incorruptibility," Governor Rendell said. "This industry will be built from the ground up, making Sanford's problem-solving skills and ability to evaluate and reshape programs invaluable to the Board and ultimately the people it serves.
"Sanford will help ensure that the right people get gaming licenses and that the Pennsylvania gaming industry is respected throughout the country for its incorruptibility and commitment to excellence," Rendell added.
Rivers said he was honored by his appointment and prepared to devote himself to the Gaming Control Board.
"My time with the NFL has served as continual challenge to my ability to judge others and deliver fairness," he said. "My experience in university policy and labor negotiations will offer a sounding board as we begin to develop and implement regulations and policies that will ultimately form the ground floor of this industry.
"I will remain vigilant, though, as our policies are tested and work to redraft them if they don't prove to serve the citizens of Pennsylvania's best interests," Rivers said.