Biotech Start-Up Opens NASDAQ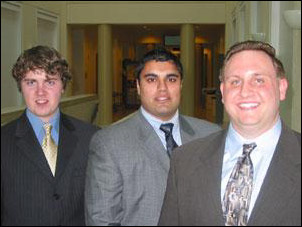 Mark O'Leary, Yogesh Oka and Joshua Gerlick (l-r) opened the NASDAQ on behalf of their start-up, EADevices Inc.

On Friday, Aug. 6, three recent Carnegie Mellon University graduates sounded the opening of the NASDAQ Stock Exchange on behalf of their biotechnology start-up, EADevices Inc.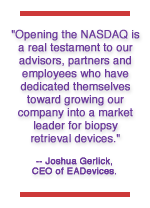 Joshua Gerlick (MBA'04), Yogesh Oka (CS'04) and Mark O'Leary (E'04) formed the company while they were attending Carnegie Mellon last year and entered 11 business plan competitions to prove their venture and generate start-up funding. This past May, they defeated 29 teams from around the world to win the 2004 MOOT Corp. Global Business Plan Competition, widely viewed as the most prestigious competition of its kind. Along with a $100,000 investment from MOOT Corp., EADevices earned the opportunity to open the NASDAQ market in an internationally televised ceremony with representatives from MOOT Corp. and NASDAQ.

"Our experience has been that winning the Global MOOT Corp. Competition is of major assistance in fundraising to the winner," said Gary Cadenhead, director of MOOT Corp. "The credibility and national exposure provided by winning the Super Bowl of world business plan competitions and opening the NASDAQ Stock Market enhances the ability of the firm to raise additional funds."


| | |
| --- | --- |
| | EADevices main product, EANeedle, is less invasive than current biopsy technologies and will result in earlier opportunities for cancer detection and treatment. |
"Opening the NASDAQ is a real testament to our advisors, partners and employees who have dedicated themselves toward growing our company into a market leader for biopsy retrieval devices," said Gerlick, CEO of EADevices.

The company's featured product, the patent-pending EANeedle, combines circular ultrasonic energy with thin, interchangeable needles to provide a solution for difficult, early-stage biopsies. The needle is less invasive than current biopsy technologies and will result in fewer complications, providing patients with earlier opportunities for cancer detection and treatment.

EADevice's success on the competition circuit sparked nearly $350,000 in winnings and numerous relocation offers from investors. Despite the offers, EADevices will remain in Pittsburgh, "a city with a strong investment base of venture capitalists, angel investors and successful entrepreneurs . . . [and] a network geared towards supporting the emerging IT and biotechnology industries," says Oka, the company's chief operating officer.

Pittsburgh houses superb medical facilities, an additional perk for EADevices. Leading surgeons at the University of Pittsburgh Medical Center have agreed to provide consulting services and host additional testing of the EANeedle.

EADevices is currently pursuing a $750,000 seed round of capital with plans to fundraise a $5 million Series A round early next year.