HBCU Students Enjoy Information Systems "Boot Camp"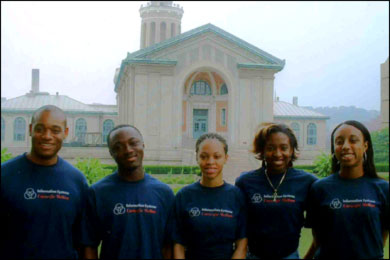 Applications in the Community Summer Program participants included (l-r) Timothy Summers, Joseph Adjei Manu, Elizabeth Lane, Angel B. Clark and Jessica Riley.
This summer, five students from Historically Black Colleges and Universities (HBCUs) got a taste of Carnegie Mellon's information systems (IS) program through a six-week institute in which they developed technology services for a Pittsburgh nonprofit agency.
Joseph Adjei Manu, a senior, and Elizabeth Lane, a junior, both from Hampton University; Jessica Riley, a junior, and Angel B. Clark, a senior, both from Spelman College; and Timothy Summers, a senior at Elizabeth City State University, participated in the Applications in the Community Summer Program, which was supported by a three-year grant from the Andrew W. Mellon Foundation. This was the summer program's inaugural year.
The students worked on a project for Every Child Inc., an agency that provides services to families with children with disabilities. They created a report-generating database that will alleviate the time that Every Child Inc. employees spend manually calculating figures for weekly and monthly reports.
"We took a process that took over eight hours a week and made it possible for them to do it in under eight seconds—automatic with the click of a button," Summers said. "Usually their weekly reports would take all of Friday. Our solution frees them up to do more to help kids and families, and maybe take on new cases."
The students spent the first stage of the program in the classroom, learning Web design, database and programming skills. "They went through their paces, going through the IS boot camp. We gave them the greatest hits of the IS program," said IS Director Randy Weinberg.
The summer program mirrored the IS senior project course, the hallmark of the program, in which students work in teams to solve real-world information problems for local nonprofit organizations. Each year, the IS program donates about $1 million in information technology services to the Pittsburgh nonprofit community.
Because their work benefited Every Child Inc., and consequently local children and families with special needs, the students felt an added impulse to do their work well and take satisfaction in it.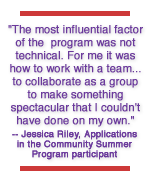 "It's so good to know that what we're doing is helping underprivileged children, even indirectly," Manu said.
"It was an honor to be a part of it," added Riley. "I feel I've contributed to this community. This is a unique program and a unique opportunity."
Along with the technical training they received, the students learned to put theory into practice, work with a client, function as a team and manage their time.
"The most influential factor of the program was not technical," Riley said. "For me it was how to work with a team, to be a good leader and a good background worker, how to communicate effectively and collaborate as a group to make something spectacular that I couldn't have done on my own."
A guiding principle of the IS program, and one of the reasons it is based in the College of Humanities and Social Sciences, is that the solutions to information technology problems often lie in understanding how complex systems are organized, how they behave and how their members communicate. The students in the summer program found this interpersonal side of technology management appealing. All five reported that it had changed their professional focus, and some have even altered their career goals.
"This program was organized so well. It made me consider changing my career focus," Riley said. "Carnegie Mellon has opened my eyes to new opportunities in entertainment technology, information systems and all the other opportunities here."

Jenni Miller