Carnegie Mellon Names Nielsen CEO, Director of Software Engineering Institute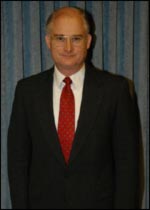 U.S. Air Force Major General Paul D. Nielsen will become chief executive officer and director of Carnegie Mellon University's Software Engineering Institute (SEI) effective Aug. 1, 2004.
"Paul Nielsen brings excellent skills and experience in managing a sponsored research organization that will serve the Software Engineering Institute and Carnegie Mellon University well," said Carnegie Mellon President Jared L. Cohon. "Paul will maintain the SEI's leadership in developing best practices in software engineering and computer security and expand the SEI's impact in both the commercial and government software engineering communities."
Nielsen, 53, will retire from the Air Force August 1, 2004, after 32 years of distinguished service. He recently relinquished command of the Air Force Research Laboratory at Wright-Patterson Air Force Base in Ohio, where he managed a science and technology budget of more than $3 billion annually. He also was the Air Force's chief technology officer, determining the Air Force's investment strategy for science and technology activities.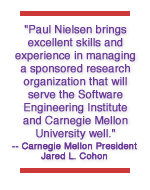 As CEO and director, Nielsen's responsibilities will include setting a technical and business strategy for the SEI, a federally funded research and development center sponsored by the U.S. Department of Defense and operated by Carnegie Mellon. The SEI helps organizations make measured improvements in software engineering capabilities by providing technical leadership to advance the practice of software engineering.
"I'm really excited about this unique opportunity to be part of the Carnegie Mellon family and leading the SEI," Nielsen said. "Science and technology has been extremely important to me throughout my career and we find out more and more that software is at the heart of many military and commercial systems. The SEI has a wonderful reputation of being at the forefront of the software engineering community."
Nielsen succeeds Stephen E. Cross, who left in 2003 to become a vice president at Georgia Institute of Technology and the director of the Georgia Tech Research Institute. Angel Jordan, a university professor emeritus of electrical and computer engineering at Carnegie Mellon and founder of the SEI, has been serving as the institute's interim director.
"I could not be passing the SEI leadership to a better person," Jordan said. "Paul is a leader of vision and a superb technologist. He will propel the SEI to higher levels of excellence."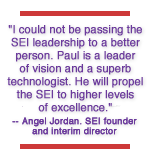 Nielsen is a graduate of the U.S. Air Force Academy. He has a master of science degree in applied science from the University of California, Davis and an MBA from the University of New Mexico. Nielson earned a Ph.D. in plasma physics from the University of California, Davis.
Nielsen has received numerous awards including the Distinguished Service Medal, the Defense Superior Service Medal and the Legion of Merit. In 2004, Nielsen was named an American Institute of Aeronautics and Astronautics Fellow.
Nielsen currently resides in Dayton, Ohio, with his wife, Dotty. The Nielsens have three children: Eric, a graduate of Massachusetts Institute of Technology and a computer engineer in the Boston area; Kristin, a third-year medical student at the University of Pennsylvania; and Steven, a sophomore in Carnegie Mellon's Department of Electrical and Computer Engineering.

Kelly Kimberland