Mowry Takes Helm of Intel Research Pittsburgh
Lab Aims to Enhance Communications Technologies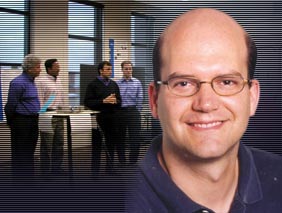 Todd C. Mowry, associate professor of computer science, has been named head of Intel Research Pittsburgh, one of four labs Intel Corp. has founded near major universities to pursue collaborative research projects to accelerate the development of new computing and communications technologies. He succeeds Mahadev Satyanarayanan, the Carnegie Group Professor of Computer Science, who has led the lab since its formal opening in February 2002.
Mowry is an expert in computer architecture, compilers, operating systems, parallel processing and database performance.
"Todd will bring a new research thrust to Intel Research Pittsburgh at the intersection of databases, architecture, compilers and operating systems," said Satyanarayanan, a pioneer in the fields of distributed file systems and mobile computing.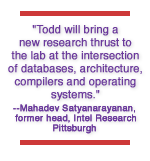 A native of Butler, Pa., Mowry, 37, received a bachelor's degree in electrical engineering from the University of Virginia in 1988, and his master's and doctor's degrees in the same field from Stanford University in 1989 and 1994, respectively. He began his career as an assistant professor in the Electrical and Computer Engineering Department at the University of Toronto and joined the Carnegie Mellon faculty in 1997.
Mowry was named a Sloan Research Fellow in 1999 for his groundbreaking work in computer architectures. That same year, he also received a TR 100 award from MIT Technology Review Magazine, which described Mowry as one of "100 young innovators poised to shape technology."
Mowry inherits leadership of a lab that has grown dramatically since its founding.
"Intel Research Pittsburgh is already making a big impact on a number of areas of research since its founding just over two years ago, including personal computing mobility in the Internet Suspend/Resume project, wide-area sensing in the IrisNet project and interactive search of complex data in the Diamond project," said David Tennenhouse, Intel vice president and director of research.
The Internet Suspend/Resume project will allow commuters or travelers to work in one location (like the home), suspend activity during commuting or travel, and begin computing in another location (like work) with an identical computer environment. The same applications are available, the same files are open and the windows and cursor are in the same location. Researchers plan to deploy a pilot program sometime in 2004.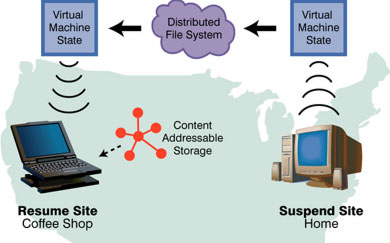 The Internet Suspend/Resume technology allows a telecommuter to work at one location, suspend activity while commuting, and resume an identical environment on a different computer.
Working with colleagues from Seagate Research and other industrial collaborators, the Diamond Project aims to develop an interactive search of terabyte-scale, non-indexed collections of complex data (like photo collections, satellite pictures and medical images) by exploiting recent advances in active disk technology.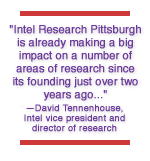 The Internet-scale Resource-Intensive Sensor Network Services, or IrisNet research team is developing a scalable software infrastructure that will allow users to query Webcams and other globally distributed collections of high-bit-rate sensors on the Internet.
Satyanarayanan noted that the lab has also contributed to innovation in education at Carnegie Mellon. "In addition to the lab's rich and vibrant research agenda, we have extensive collaborations with our faculty and students, many publications in top forums and impressive working prototypes," he said.
In spring 2003, a new course, Internet-Scale Sensor Networks: Design and Policy, was jointly created and team-taught by Carnegie Mellon faculty and Intel researchers. Course projects relied on Intel Research's experimental prototypes from the Pittsburgh lab, as well as some from the University of California at Berkeley.
As Mowry takes the helm at Intel Research Pittsburgh, Satyanarayanan will remain involved full-time with the lab through the end of summer. After that, he will continue to play a substantial role in the research that he helped to initiate.
"A key tenet of Intel's research model is to collaborate closely with university faculty members, such as Satya[narayanan] and Todd, on a rotation basis," Tennenhouse said. "As Satya rotates back to continue his leadership role in the academic community, we would like to personally thank him for his tremendous efforts on behalf of both Intel and Carnegie Mellon University."
Intel Corp. is one of the world's largest producer of computer, network and communication products. For more on Intel Research Pittsburgh, visit Carnegie Mellon's Corporate Relations Web site at http://www.cmu.edu/corporate/.

Anne Watzman