Carnegie Mellon Names New Dean To Lead College of Engineering
Internationally Renowned Researcher, Educator Pradeep Khosla Will Head CIT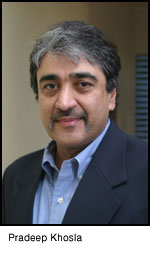 Carnegie Mellon University has named Pradeep K. Khosla, the Philip and Marsha Dowd Professor of Electrical and Computer Engineering and Robotics, dean of the College of Engineering (CIT), effective July 1. He succeeds John L. Anderson, who left in April to become provost of Case Western Reserve University.
A member of the CIT faculty since 1986 and a Carnegie Mellon alumnus, Khosla has invested enormous energy in the success of Carnegie Mellon and has demonstrated his leadership in research and education initiatives both within Carnegie Mellon and internationally. Khosla is head of the Electrical and Computer Engineering Department (ECE), and co-director of CyLab, a university-wide initiative.
"Pradeep Khosla's wide-ranging experience in research, teaching and creating meaningful partnerships with business and industry make him an excellent choice to lead our College of Engineering. Based on our past experience with his work, we expect great things of Pradeep," said Jared L. Cohon, president of Carnegie Mellon.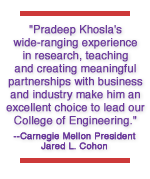 During his tenure as department head, ECE grew more than 80 percent in research volume, added 23 new faculty and defined several strategic multidisciplinary initiatives. The computer engineering graduate program was also ranked number one for the first time by U.S. News & World Report in the 2002 rankings.
Since October 2000, under his leadership the Information Networking Institute (INI) has increased its enrollment significantly and created a collaboration with the Athens Information Technology (AIT) Institute in Athens, Greece, to offer Carnegie Mellon's MSIN (Master of Science in Information Networking) degree. The program's first class graduated this spring.
"It is a great honor for me to be named head of Carnegie Mellon's Engineering College because it is a very strong college with a long tradition of leadership in research and education. I am also very honored that I am following in the footsteps of several excellent deans whose leadership has made a difference," Khosla said. "As one of the most technically sophisticated campuses in the world, we need to continue to take leadership roles in global education and leading-edge research. My immediate plan is to build on the great work and leadership of my predecessor, John Anderson, who has left behind a strong college," Khosla said.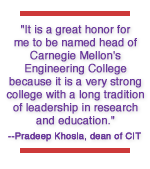 "For many years, Pradeep has been a leader not only in research, but also on educational matters. He has helped us define new ways to educate our engineering students and created strong interdisciplinary fields of study in information networking, computing security and robotics," said Carnegie Mellon Provost Mark Kamlet. "Pradeep's leadership for the university in terms of international education opportunities is striking. He has been instrumental in working with us on many new programs around the globe, most specifically our very successful programs with Greece and Singapore."
Khosla said he is extremely proud of his work on the "Wipe the Slate Clean" committee, which helped redefine the engineering degree at Carnegie Mellon. He developed the introductory freshman course that encourages hands-on engineering activity to pique the interest of students in the field.
His research covers a broad swath of activity including a focus on cutting-edge technologies related to collaborating and distributed autonomous robotics systems, software composition and reconfigurable software for real-time embedded systems, and secure embedded software and information systems.
Khosla received B. Tech (Hons) from IIT (Kharagpur, India), and both M.S. and Ph.D. degrees from Carnegie Mellon. He was a founding director of the Institute for Complex Engineered Systems (ICES) in 1997, the Center for Computer and Communications Security (C3S) in 2001, and CyLab in 2003, a university level multidisciplinary research center that focuses on technology, policy, and management issues in measurable, available, secure, sustainable and trustworthy computing communication systems.
He is co-founder of Quantapoint Inc, a Pittsburgh-based company that uses a laser system to create 3-D models of existing buildings. He currently serves on the editorial boards of IEEE Spectrum and IEEE Security and Privacy. In December 2002, he was appointed a member of the Information Technology transition team of Pennsylvania Governor-elect Ed Rendell and in February 2003, he was appointed to a three-year term at the National Research Council Board on Manufacturing and Engineering Design. He currently serves on the advisory boards of several universities and companies including Alcoa's CIO advisory board and ITU Ventures advisory board.
Khosla has received numerous awards, including the Inlaks Foundation Fellowship, the Carnegie Institute of Technology Ladd award for excellence in research, two NASA Tech Brief awards, the ASEE George Westinghouse Award for Education, the SiliconIndia Leadership award for Excellence in Academics and Technology and the W. Wallace McDowell award from the IEEE Computer Society.

Chriss Swaney