Carnegie Mellon Poll, Online Discussion Focus on City School Consolidations


Carnegie Mellon University's Institute for the Study of Information Technology and Society (InSITeS) and Center for the Advancement of Applied Ethics will conduct a public survey and research study called The Virtual Agora Project. Named for the places in marketplaces where the ancient Greeks would gather to debate politics, Virtual Agora's cornerstone will be a discussion and citizen survey about school closings and consolidation in the Pittsburgh Public Schools.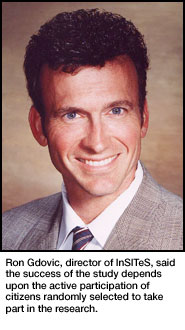 Ron Gdovic, director of the InSITeS, said that over the next few weeks, Carnegie Mellon researchers will randomly select Pittsburgh residents to participate in the study. The first phase of the experiment will be conducted on campus and will involve more than 500 participants selected through a telephone survey to represent a cross-section of city residents.
The survey will take place between July 10 and Aug. 1 and will include polling, presentations and deliberation using a groundbreaking software application developed by the researchers specifically to support this project.
"Public schools are integral to the communities in which they serve. The success of the Virtual Agora Project depends upon the active participation of those who are fortunate enough to be randomly selected to take part in the research," said Gdovic.
The second phase of the experiment entails a year-long continuation of the deliberations among 452 of these participants online. Participants will identify successive topics in three follow-up Web "congresses" and will then engage in an online discussion and survey of each issue. The research team will try to determine which online practices and technologies best promote vigorous and respectful deliberations.
"Deliberation is a unique form of public communication whereby individuals from different backgrounds and with different interests and values learn more about an issue, then, through discussion, consider each other's points of view on that issue. Through a structured deliberative process, community issues can be defined and understood. Then solutions can be developed and action plans put into play," Gdovic said.
This project is not intended to endorse particular policies or points of view. "Rather, the project seeks to give voice to the many diverse opinions on issues affecting the local community while testing a new method of democratic deliberation enhanced by information technology," Gdovic said.
For more information, contact Gdovic at 412-268-9858 or rgdovic@cmu.edu
Jonnathan Potts