Reid Simmons Wins Allen Newell Medal for Research Excellence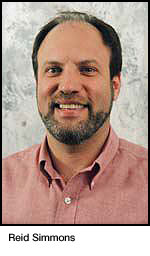 Carnegie Mellon University's School of Computer Science (SCS) awarded its Allen Newell Medal for Research Excellence to Reid Simmons, research professor in the Robotics Institute. Named for artificial intelligence pioneer and SCS founder Allen Newell, the award annually recognizes a group or individual whose work embodies Newell's own research mantra: "Good science responds to real phenomena or real problems. Good science is in the details. Good science makes a difference."
Throughout his career, Simmons has made extraordinary contributions to the field of autonomous robotics and helped change the world of artificial intelligence. His research focuses on developing fully autonomous robots that function for long periods of time in natural, social environments. Some of those robots include Xavier, which navigated the hallways of Carnegie Mellon's Wean Hall, and Nomad, the robot that searched for meteorites in Antarctica.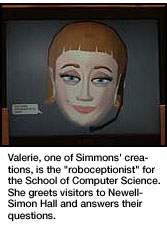 "Allen Newell would be proud, excited and amused, all at the same time, to see how Reid's work ties together Allen's interest in artificial intelligence with his work in human-computer interaction," said Randal Bryant, dean of SCS. "Building the computer system embodied in a mobile system ties together many different strands of research. It's exactly the kind of visionary work he would appreciate."
This year, Simmons furthered Newell's goal of making science "respond to real phenomena or real problems" by creating socially interactive robots. One of them, Valerie, sits in the main entrance of Newell-Simon hall and acts as the "roboceptionist" for SCS. Valerie talks to guests, answers questions and acts much like a human receptionist. Grace, another Simmons creation, talks about herself and navigates through buildings and crowded areas. Both "ladies" have made headlines for the technological breakthroughs they represent in autonomous robotics.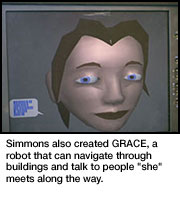 "Grace and her companion Valerie are tackling head-on the problems of robots interacting with people: not just speaking and responding, but such everyday activities as standing in line, walking next to someone and being polite," said Bryant. These robots epitomize Allen Newell's interests in artificial intelligence and human-computer interaction in visionary and constructive ways.
Simmons received the award at the SCS diploma ceremony in May.

Rebecca Steinberg