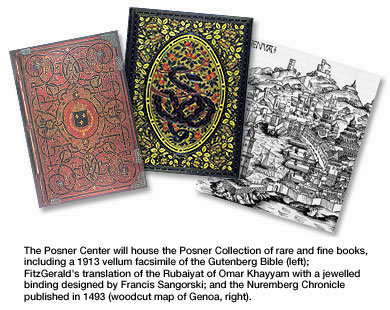 Posner Center Opens
New facility showcases rare books and art
The Posner Center opened its doors for the first time on Monday, May 17, when university officials gathered to dedicate the spectacular new library facility and university meeting venue. A gift of Henry and Helen Posner Jr. in memory of his parents, Henry and Ida Posner Sr., the Posner Center is located between the College of Fine Arts and the Tepper School of Business, facing Margaret Morrison Carnegie Hall and the tennis courts. The building is mostly underground and its roof will feature the Kraus Campo, which will open this fall.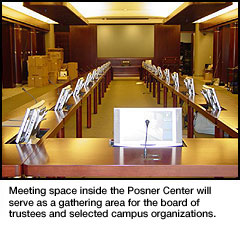 The 11,400 square-foot building, designed by WTW Architects, will house the rare and historic books and art collected by Mr. and Mrs. Posner Sr. The Posner Collection, formerly housed in Hunt Library's Fine and Rare Book Room, includes more than 1,000 volumes ranging from the history of science to classic literature. The collection also contains finely bound books and important historical documents, including one of only four extant copies of the first printing of the Bill of Rights.
In addition to housing the Posner Collection, the Posner Center contains meeting facilities designed as the primary gathering area for the board of trustees. The space will also be available to the Faculty Senate, Staff Council, student government, advisory boards and similar groups, as well as for meetings that require videoconferencing and sophisticated technology.
The Posner Center also has a gallery space that will provide a new venue for university events. Beginning with a special exhibit designed for the dedication by Rick Landesberg Associates, the center will also feature ongoing exhibits from the collection. A Posner Fine Arts Foundation internship will annually support two Carnegie Mellon students who will design the exhibits.
The Posner Center will be open to the public as a library facility from 1 to 4 p.m., Monday through Friday, beginning Tuesday, June 1. University officials expect to expand those hours at the beginning of the fall term. Requests for meeting or event use of the Posner Center should be directed to the President's Office.
Cindy Carroll