SoftSheen-Carson President, University Alumna Candace Matthews To Give Keynote Address at Commencement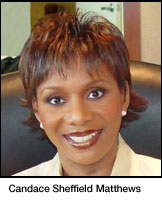 Candace Sheffield Matthews, a Carnegie Mellon alumna and one of the most powerful female corporate leaders, will give this year's keynote address at Carnegie Mellon's 107th commencement at 11 a.m., Sunday, May 16 in Gesling Stadium on the university campus. Matthews is president of SoftSheen-Carson, a consumer products division of L'Oréal USA, Inc., and a Carnegie Mellon University trustee.
"It's particularly gratifying to have an alumna of Candace Matthews' stature as our commencement speaker. During their four years at Carnegie Mellon, our students are encouraged to develop strong analytical skills and to think outside the box when they solve big and small problems. Candace's meteoric rise outside her area of technical education is a testament to her own creativity and hard work and, we also hope, to the skill set she received as a student here. We are pleased and proud to have her speak at our commencement," said Jared L. Cohon, president of Carnegie Mellon.
SoftSheen-Carson is one of the world's leading makers of ethnic hair care and beauty products. Founded in 1964 by Edward and Betti Ann Gardner, SoftSheen was the largest African-American-owned beauty products company in the country until its acquisition by L'Oréal USA in 1998. In 1999, L'Oréal acquired Carson Products and in August 2000 merged the two companies to form SoftSheen-Carson. The merger established L'Oréal's worldwide headquarters for hair care products for people of African descent.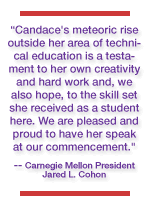 Matthews joined L'Oréal USA in November 2001 from The Coca-Cola Company, where she most recently served as vice president for new product and package innovation. Before joining Coca-Cola, Matthews held senior marketing positions at the CIBA Vision Corporation; Bausch & Lomb; Procter & Gamble and at General Mills, where she began her marketing career.
Matthews' professional experience, passion for the beauty-care business and involvement in the African-American community made her a perfect fit to lead SoftSheen-Carson. Realizing the significant growth opportunities in the ethnic hair-care market, Matthews came to SoftSheen-Carson with innovation, technology and growth as her top priorities for the company.
A native of New Brighton, Pa., Matthews received a bachelor's degree in metallurgical engineering and administrative and management science from Carnegie Mellon and went on to earn an MBA from the Stanford University Graduate School of Business. She has been featured in Black Enterprise, Savoy Professional, Essence, Ebony, Glamour and Jet magazines. In October 2003, Matthews was honored with a Carnegie Mellon Alumni Merit Award.
Matthews resides in the greater Chicago area with her husband and two daughters.
For more information, including a live Webcast of commencement, visit http://www.cmu.edu/commencement/
Teresa Thomas