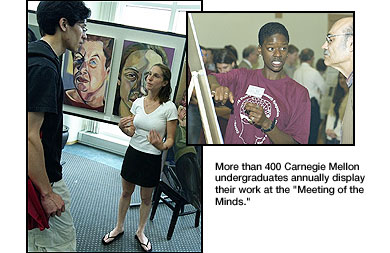 Carnegie Mellon's "Meeting of the Minds" Shines Light on Students' Brainpower

A wearable computer, a robotic snake and an ecological art exhibit are among the student projects that will be on display Wednesday, May 5, during the ninth annual Meeting of the Minds, the undergraduate research symposium at Carnegie Mellon University. The work of more than 400 Carnegie Mellon undergraduates will be on display from 10 a.m. to 5 p.m. in the University Center.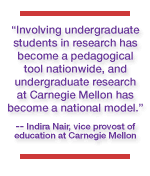 Meeting of the Minds is part of Carnegie Mellon's Undergraduate Research Initiative, which encourages and supports undergraduates to engage in the type of research and innovation that at many institutions is the domain of faculty and graduate students. Many projects grow out of students' coursework in their major, while others typify Carnegie Mellon's emphasis on interdisciplinary collaboration to solve real-world problems.
"Involving undergraduate students in research has become a pedagogical tool nationwide, and undergraduate research at Carnegie Mellon has become a national model," said Indira Nair, vice provost of education at Carnegie Mellon.
Students from all six of the university's undergraduate schools will be demonstrating their projects, which include: a wireless serpentine robot for use in rescue work; a computer that the user can wear like clothing and that measures their heartbeat, pulse and even their mood; an ecological art project intended to preserve green spaces in the Hill District; a symphony based on sonic patterns found in star clusters; a study on the impact of outsourcing on the information technology industry; and face recognition software.
"Students demonstrate robots they have built, show movies they have made, discuss experiments they have conducted and more. Research is at the heart of our institution, and Meeting of the Minds demonstrates that undergraduates are fully involved with this exciting and important work in all fields on campus," said Janet Stocks, director of the Undergraduate Research Initiative and assistant vice provost for education at Carnegie Mellon.
For more, visit http://www.cmu.edu/adm/uri/
Jonathan Potts